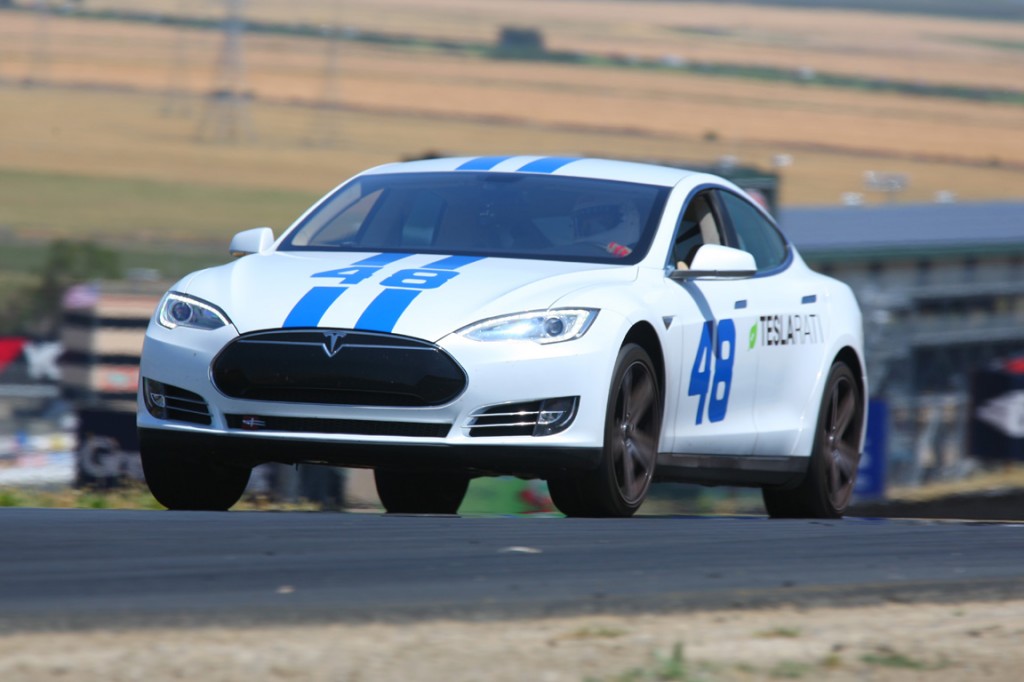 Even with 7 different tracks under our belt, Sonoma Raceway pushed the 48 Tesla Model S to the extreme limits.
This turned out to be the most challenging track we've ever raced on. Hardly anything comes close in terms of danger and complexity. Not only is the layout of the course challenging in itself, having walls everywhere added an even greater degree of difficulty. We were happy to have survived the track by not hitting any walls despite having loss control on several occasions.
The Track
Sonoma, formerly Infineon Raceway, is in Northern California, just half an hour north east of San Francisco. It's a 2.5 mile very technical road course with 12 turns and 160 feet of elevation changes. The track has retaining walls very close to the track so any loss of control can have very serious consequences.
The Tesla Model S
Following correct race lines was of outmost importance on this track and deviating from it could mean sub-optimal times or even loss of control.
Track
Turn 1: We experienced something alarming right in the middle of turn 1 where the track goes uphill. Our steering wheel locked-up after 1 G of lateral pressure was applied to the front wheels on-camber into the turn.
Turn 2: More off-camber than it appears, and we ended up sliding there a couple of times. Following the correct racing line and applying acceleration on track out prevented that from happening.
Turn 3a: Exhilarating! Takes place right over a hill so you can't really see where you'll end up on track out. It was fun to be able to follow our instincts and exit within inches off the edge of the track.
Turn 6 "the carousel": Pushed our Model S to the upper suspension limits as we pulled a 1.1 to 1.2 lateral G force through the turn without loss of control.
Turns 8 and 8a: Extremely tricky. The turn appears like a regular S but the slight elevation and camber changes make it a challenge. On exit of 8a, we had to apply a lot of acceleration because without it the Model S will slide sideways until traction control catches it.
Turn 10: Not technically challenging but a true test of courage since it's very close to the wall.
Out best lap time was 2:06 in session 3, lap 1. Top speed we reached on the track was 105 mph. Power limitation degraded lap times by approx. 6 seconds per lap.
Charging and Power Consumption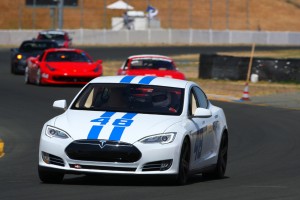 The track has a single 220V/50A outlet at the end of the garage next to the Sunoco fuel station. It had a male twist-on adapter, but unfortunately all we had was a SS2-50P male adapter that we weren't able to use with the outlet. No RV hookups onsite. We ended up running for two sessions in the morning, going to Vacaville supercharger that's 37 miles away, and getting back with enough time to complete 2 afternoon sessions. Inn Marin hotel in Novato 10 miles away has a J1772 ChargePoint network charger that we used overnight.
Power consumption was similar to other tracks. The 48 Tesla Model S consumed approximately 4 miles of range per 1 actual mile of distance. A 7 lap session (5 timed laps, 1 warm-up, and 1 cool-down lap) consumed 80 miles of range.
Power limitation due to overheating came up on the first lap despite chilly 55 degree temperature in the morning. Power limitation remained at 160 kWh/mile for most of the day.
Travel
Travel from San Diego to Sonoma took 11 hours, including four 45-minute charging stops in San Juan Capistrano, Tejon Ranch, Harris Ranch, and Gilroy.
ALSO SEE: Interactive Tesla Supercharger Map
Contrary to last year when we were hoping to run into other Tesla owners at a Supercharger, nowadays every supercharger was full when we arrived. Even the newer Supercharger facilities were 7+ stalls were occupied. It makes us wonder what the charging experience will be like as Tesla Motors continues to scale out production of the Model S and upcoming Model X.
| | |
| --- | --- |
| Vacaville Supercharger | Tejon Ranch Supercharger |
| | |