Tesla Model S, X, and Model 3 owners are getting their first look at a new "Scheduled Departure" feature as part of an over-the-air software update that enables a vehicle to complete a user-determined battery state of charge at a specified time.
The update comes with a number of convenience features that aim to enhance driveability, along with a power upgrade.
As its name implies, Tesla's new "Scheduled Departure" feature, previously known as "Smart Preconditioning," will prepare a Tesla's battery state of charge for a specific time of departure each day. By enabling the ability to set a departure time by day of the week, Tesla owners can better control when a vehicle reaches charge completion, thereby timing it close to their actual departure time. An added benefit to being able to end charging at a specified time is cost savings.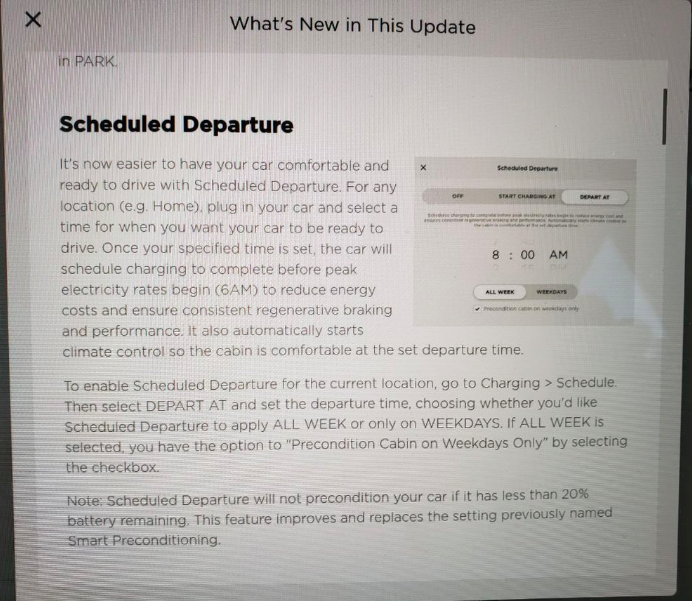 Credit: Tesletter
Tesla states the benefits of the Scheduled Departure feature in its release notes as follows:
"It's now easier to have your car comfortable and ready to drive with Scheduled Departure. For any location (e.g. Home), plug in your car and select a time for when you want your car ready to drive. Once your specified time is set, the car will schedule charging to complete before peak electricity rates begin (6AM) to reduce energy costs and ensure consistent regenerative braking and performance."
By giving Tesla owners better control of their intended departure time, the vehicle can also prepare cabin temperatures in advance. "It also automatically starts climate control so the cabin is comfortable at the set departure time," notes Tesla.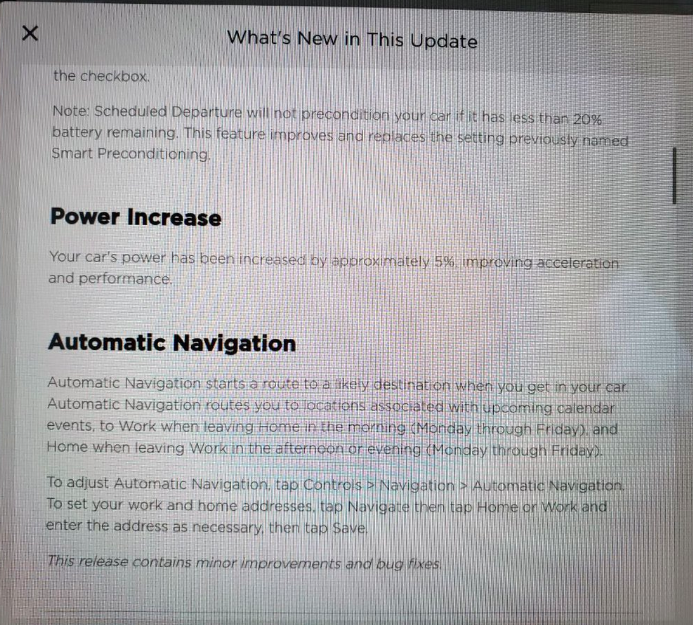 Credit: Tesletter
The OTA update also includes a new "Automatic Navigation" feature that determines a driver's likely destination based on their upcoming calendar event, and will automatically set navigation to use the most efficient route. Tesla's release notes use the example of leaving for work from home during the week and leaving work to come home. The car will automatically know where the driver is headed, and take the most efficient route.
The addition of new features on a somewhat often basis is what sets Tesla apart from other car manufacturers. Vehicles are constantly improving and never stagnate when it comes to new capabilities. Musk said, "I don't think there has ever been a situation in history where you buy a car and it gets way better over time, through software.