Tesla Tequila is once again available for purchase for $250 on Tesla's dedicated website for the premium liquor.
For $250, you can scrape up the second batch of the electric car and energy company's introductory booze product, shipping included. The company indicates on the site that deliveries are expected to begin in April 2021.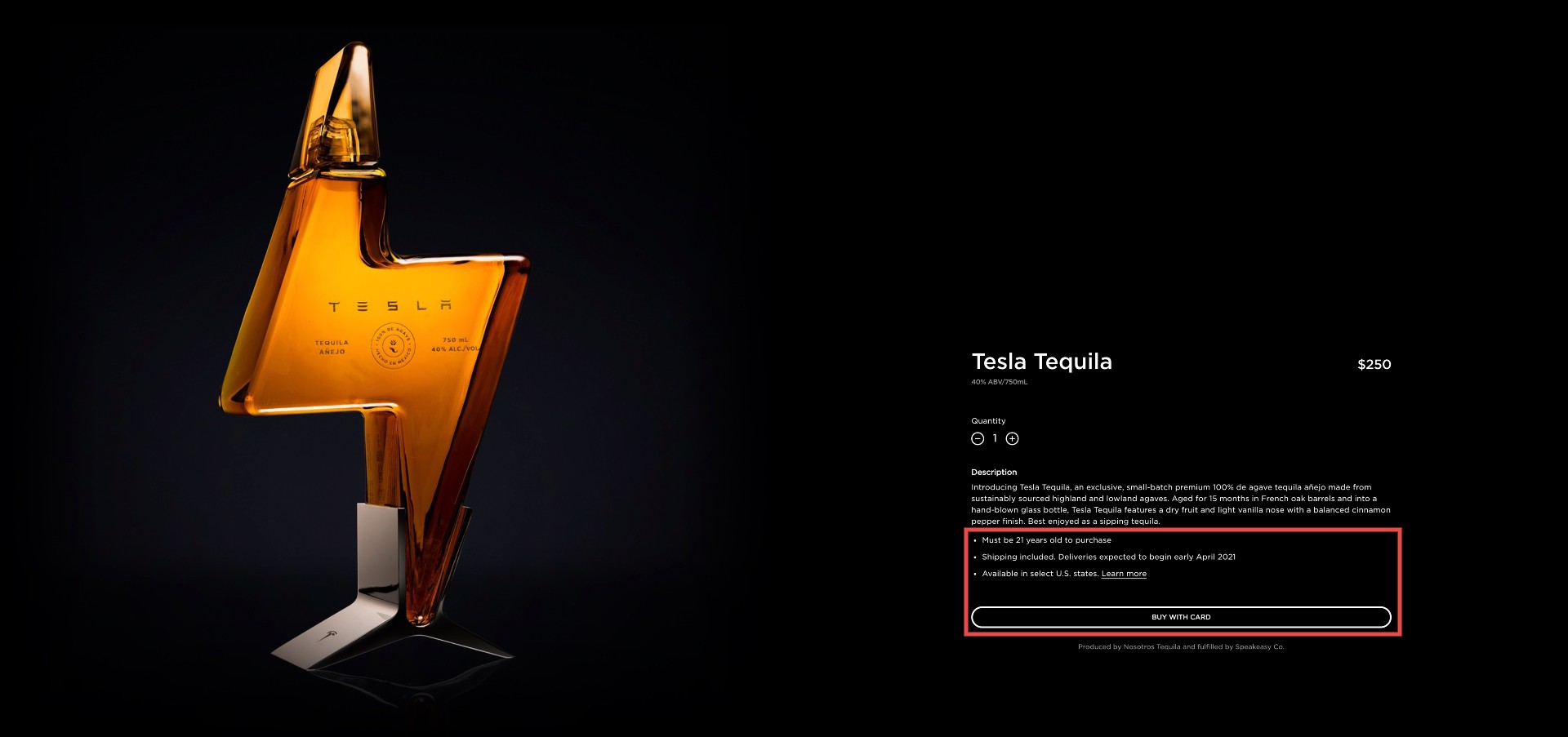 div class="in-article-ad">
The product description states:
"Introducing Tesla Tequila, an exclusive, small-batch premium 100% de agave tequila añejo made from sustainably sourced highland and lowland agaves. Aged for 15 months in French oak barrels and into a hand-blown glass bottle, Tesla Tequila features a dry fruit and light vanilla nose with a balanced cinnamon pepper finish. Best enjoyed as a sipping tequila."
First look at Tesla Tequila: commemorative packaging with one-of-a-kind bottles
In November 2020, Tesla launched its initial attempt to deliver a product based on Elon Musk's 2018 April Fools Joke. After a photograph of CEO Elon Musk passed out next to a Tesla vehicle surfaced, the frontman jokingly declared his company had filed for "Chapter 14 and a half" bankruptcy. Tesla teased that it had run out of money, and Musk was soaking his sorrows in with bottles of "Teslaquila."
After the joke, the Tesla community ran with it, and the sustainable energy and car company soon toyed with the idea of making its own, exclusive tequila. Musk's elite humor took center stage, and a brand of sustainably-sourced alcohol became one of the CEO's other ventures. Unfortunately, the idea of it being called Teslaquila had to be left behind, as patent registrations wouldn't allow Tesla or Musk to access the name.
Deliveries began shortly before the Holiday Season. After selling out in record time, Tesla indicated that it would restock at a date to be determined later. Additionally, empty bottles and shot glasses are going to be made available for international customers.
Of course, to purchase the Tesla Tequila, you have to be 21 years of age. Due to industry regulations, shipments can only be made to the US in the following states: Alabama, Arizona, California, Colorado, Connecticut, Delaware, District of Columbia, Florida, Idaho, Illinois, Indiana, Iowa, Louisiana, Maryland, Massachusetts, Mississippi, Nevada, New Hampshire, New Jersey, New Mexico, New York, Ohio, Oklahoma, Oregon, Pennsylvania, Rhode Island, Tennessee, Texas, Virginia, Washington, Wisconsin.