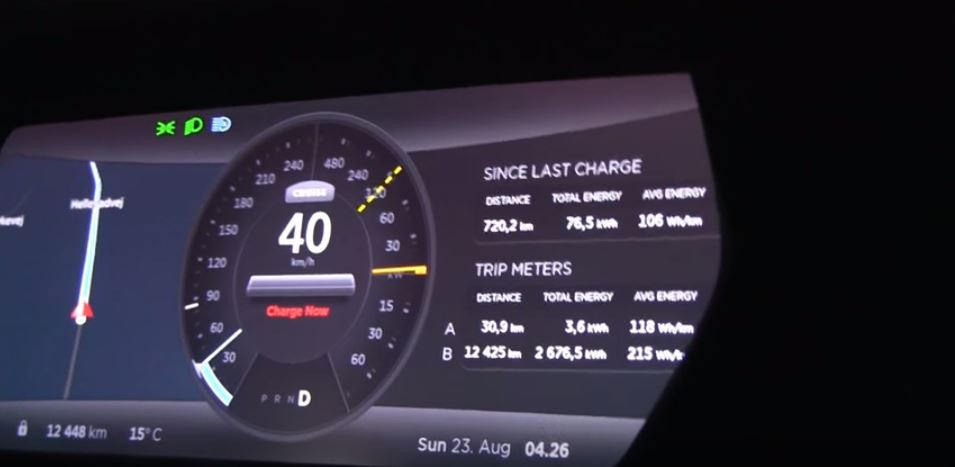 Bjørn Nyland is at it again, making news this time for the longest distance traveled on a single charge in a Tesla Model S P85D. This past weekend, he drove conservatively (aka hypermiling) from the Rødekro, Denmark  Supercharger location and back again, covering a total of  728.7, GPS verified, kilometers along the way. That converts to 452.8 miles on a single charge, which bests the previous record held by a father-son duo who travelled 423.5 miles in their Model S.
Most of you will recognize the name Bjørn Nyland. He recently became the first person to refer 10 new Model S purchasers to win the regional grand prize in the company's referral program – a new Tesla Model X Founder's Edition. He also will get an invitation to the opening ceremonies for the Tesla Gigafactory next year.
Asked if his journey will be certified by Guinness World Records, his co-driver replied, "Did not talk with the guys at Guinness, so I think not. They would probably want to track the whole thing with a sealed GPS box or something. We did GPS tracking to confirm the numbers in the Tesla though, but as this record may soon be taken by a 90D or eventually a 120D or similar, there was not much point to make it too official. It was more to show what is possible with this awesome family car."
For those of you who would like to out-distance Nyland, be aware his journey was completed at an average speed of 25 mph. That's more than 18 hours behind the wheel, watching the scenery going slowly by. Not everyone has the perseverance needed for such a challenge.
Some people suggested the duo could have eked out a few more kilometers if they just kept going until the car rolled to a stop. But Bjørn's co-driver, said, "Yeah, we wanted to make it a trip with the same start as end point. Then there will be no trolling about difference in wind and elevation. We could have driven around a bit before going to the supercharger, but it was not worth the risk. We spent the whole weekend, and did not really have time to wait for a flatbed."
Congratulations to Bjørn and those who helped him with this project. If he doesn't get an official record from the folks at Guinness, he should at least get an Honorable Mention award.