I needed to transport my bike today so it was the perfect opportunity go to do a fit test of the bike in the Tesla Model S. I prepared for the first test by folding down both of the back seats and laying down a pet covering across the entire surface. The covering will minimize abrasion and potential damage to the carpet lined seat backs. I loaded the bike into the rear hatch and found everything to fit really nicely.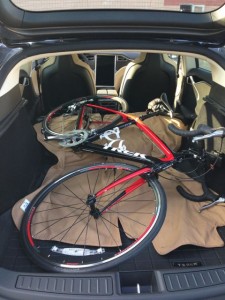 My Trek Domane is an amazingly light bike so lifting it into the Tesla and positioning it correctly was easy. I'm not a big bike person but I do enjoy a ride (for exercise) now and then. After putting about 1,500 miles on my previous Trek hybrid I decided to splurge a bit (seems to be the year for that!) and got this road bike. I prefer not having to remove the bike wheels or add any type of external hitch so I was very pleased to see the bike fit perfectly into the Tesla without needing to make any adjustments.
I decided that it would be easier to load the bike if the rear wheels were to face inwards (towards the front of the car). It was much easier to maneuver and adjust the bike when the steering assembly was facing towards me. Just don't forget to always keep the chain side up.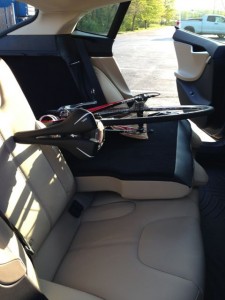 I experimented with another method of loading the bike, but this time with one of the rear seats folded up. By lifting the bike up and over the seat, I could ensure that one of the rear seats could remain upright and still usable.
While someone could potentially sit in the rear seat, its not going to be very comfortable, nor safe, considering a portion of the bike encroaches into the passenger's territory. And for that reason I don't think this would be a viable technique for stowing a bike.
Also see: Full Size Folding Electric Bike in a Tesla Model S
In the end, the Tesla Model S is more than capable of carrying a full size bike with at both of the rear seats folded down, however it will lose almost all of its passenger carrying capabilities and essentially become a 2- seater.