The highly anticipated Tesla firmware version 8.1 came bundled with an easter egg that unlocks a 'sketch pad' feature on the touchscreen for artistically inclined Model S and Model X riders. CEO Elon Musk tweeted shortly after the v8.1 over-the-air update instructions on how to use the Tesla Sketch Pad Easter egg. Unlocking the new FUNction simply involves triple-tapping the Tesla "T" at the top of the touchscreen.
If you just downloaded V8.1, tap the the T on center screen three times

— Elon Musk (@elonmusk) March 29, 2017
After tapping on the Tesla "T" three times, the sketchpad Easter egg is unlocked as a new tile on the display, allowing driver and passenger to unleash their artistic talents. When complete, the system allows owners to submit their creations to Tesla for judgement with a bold Monty Python-esque question: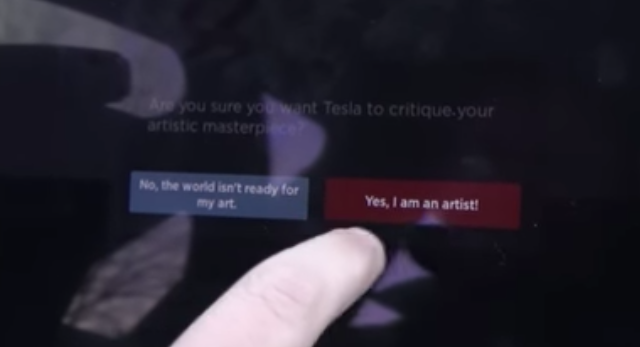 Elon followed up with a tweet of some home grown pieces of artwork created on the new sketchpad. The solution is clearly intended as more of a fun easter egg than anything functional.
Easter eggs have become a part of the Tesla firmware update culture with past hidden gems revealing Ludicrous +, the Holiday Show lighting spectacular, and of course the inclusion of the famed underwater Lotus Esprit from James Bond.
@elonmusk v8.1 at it's BEST!! pic.twitter.com/tqBHinfJOE

— Nik Jovanovic (@jovanik21) March 30, 2017
The latest firmware 8.1 update also included improvements to Autopilot 2.0. Autosteer is now capable of traveling at freeway speeds up to 80 mph (129 kph). Auto Lane Change and Tesla Summon for HW2 vehicles has also been added. The Lane Departure Warning was also brought into the mix for HW2 vehicle owners for the first time which enables steering wheel vibration as an alert if the vehicle begins to drift out of the lane when traveling above 36 mph (58 kph).
RELATED: Watch a Tesla Model S driver cruise at 80 mph while using Autopilot 2.0 Autosteer under Firmware 8.1
We've included a video showing the latest Firmware 8.1 Sketch Pad Easter egg in action, courtesy of DÆrik.
Do you have a Picasso you'd like to share with the community? Post if in the comments below and we'll be sure to highlight the most notable ones in a future post.