Leaked presentation slides from an internal NASCAR presentation show that the organization may be working on an electric version of their racing series.
According to the website KickinTheTires, the historic racing series may be unveiling an all-electric racing series as soon as next year. The races would be held as part of the Busch Clash at the Coliseum in Los Angles and would feature 12 cars with 3-4 cars representing each manufacturer; however, it is unclear at this time which manufacturers would be participating or even if the race is confirmed. The leak states that the race would then be followed by a cup series of 6 races.
When KickinTheTires requested comment from NASCAR officials, they were given the following response:
"As we have mentioned in the past, we are exploring the potential for an EV demonstration series. We are currently working with our OEM partners and race teams as the program progresses."
As seen in the slides provided to the website, the event would consist of 2 races, 30 minutes each, with no charging or battery swaps allowed.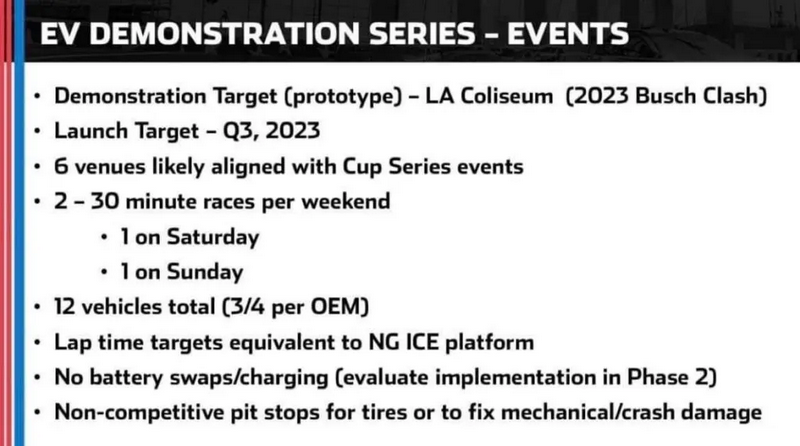 The vehicle's specs are even laid out in the presentation. Each vehicle would be using a tri-motor all-wheel-drive setup, capable of over 1000 horsepower, and 200kW of regen. The vehicles are labeled "Phase 1" indicating that future designs could easily already be in the works. It seems as though much of the rest of the vehicle would remain unchanged from the gas-powered counterpart including brakes, suspension, and bodywork.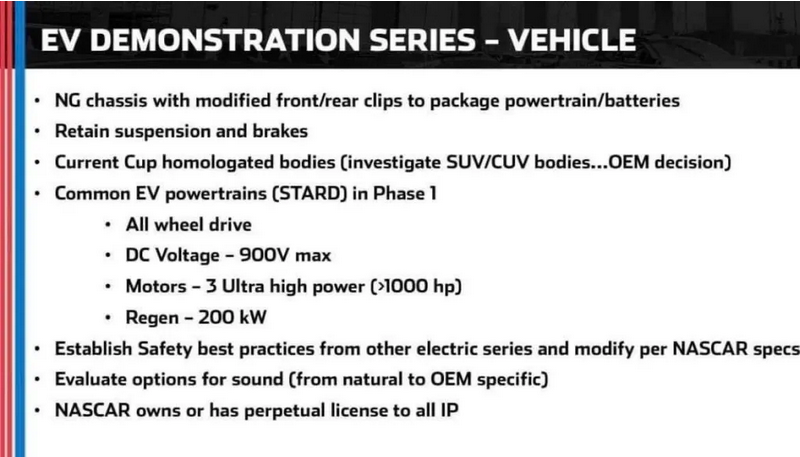 The slides conclude by laying out 4 goals for the series: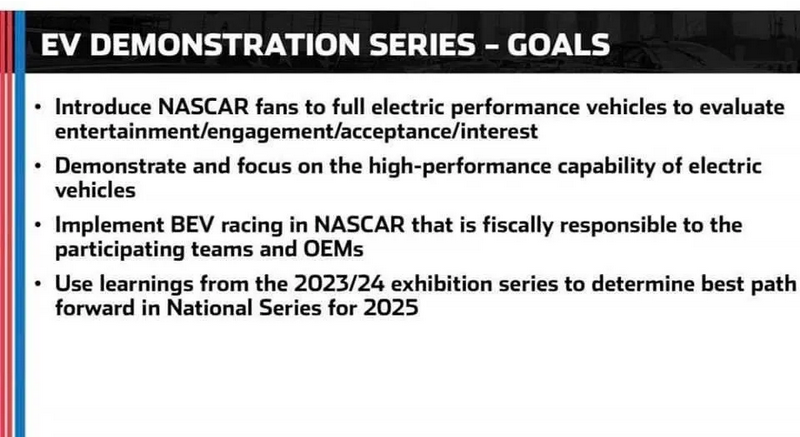 Notably, from the goal's slide, NASCAR would not only have to demonstrate that electric racing could work for manufacturers, but they need to keep fans excited and entertained.
In a comment on the concept of an electric racing series, Dale Earnhardt Jr. responded in his Dale Jr. Download podcast by saying that it would give NASCAR "new purpose." He outlined that manufacturers could use this series as the first in the world to test and win using new powertrains and batteries, something that is currently not even allowed in the Formula E electric racing series.
This could give the brand exactly what it has been looking for for so long; a new focus, a reinvigorated audience, and a rededicated set of manufacturers. However, with the far from a firm response from NASCAR corporate and no clear indication if these slides are even real in the first place, I wouldn't get my hopes up yet.
What do you think of the article? Do you have any comments, questions, or concerns? Shoot me an email at william@teslarati.com. You can also reach me on Twitter @WilliamWritin. If you have news tips, email us at tips@teslarati.com!