SpaceX's Starlink internet unit has unveiled a suite of new internet plans for customers who need the best of the best.
The incredible engineering and growth success of SpaceX's Starlink program cannot be understated. Just last week, the company revealed that it has been growing at a record pace and now has over 1.5 million subscribers, driven by growth in new sectors like aviation and maritime. Building on that success, Starlink has unveiled a suite of new commercial-grade "Priority" internet plans for customers who need the fastest internet possible.
Starlink's newest Priority internet plans are the fastest and most expensive plans the company has ever introduced. They are designed for customers with high internet speed requirements or consistently have a large number of people on their network. Starting at $250 per month, Priority Internet customers gain access to 1TB of "priority" data, which will come at faster download and upload speeds and be capable of carrying a large number of users at once.
For those who need the top-of-the-line offering, customers can opt to spend more to unlock more priority data. For $500 per month, customers gain access to 2TB of priority data, and for a staggering $1,500 per month, customers can unlock 6TB of super-high-speed data.
Starlink is also offering a new Priority plan for those on the go. The "Mobile Priority" plan starts at the same $250 per month but only unlocks 50GB of priority data. Customers will need to spend $1,000 per month to unlock 1TB of super-high-speed data or $5,000 per month to unlock 5TB.
All new Priority plans come with unlimited standard speed data, though mobile internet users only qualify if located on land. SpaceX recommends that customers opting for Priority plans also buy the $2,500 high-performance internet receiver, which will improve speed, reduce latency, host more users, and perhaps most importantly, work in a broader range of conditions.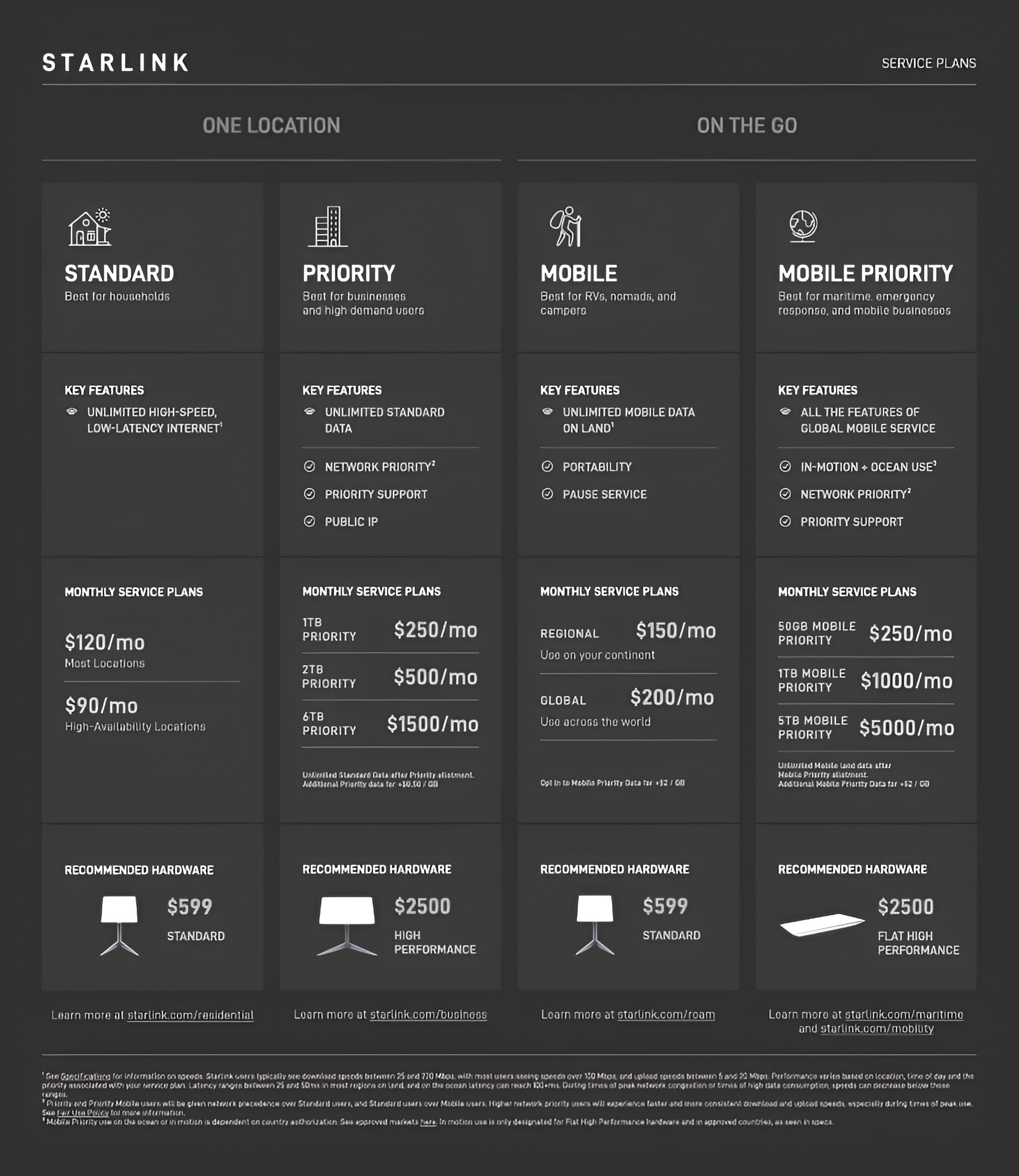 Besides the increased speeds and carrying capacity, Starlink's Priority plans also offer numerous other features to make internet access as streamlined as possible. Foremost, Starlink will offer these customers priority support if they ever encounter issues. Moreover, primarily aimed at commercial customers, Priority plan customers also gain access to a public IP address.
With Starlink aiming to grow its commercial segment in the coming years, introducing plans like these will be vital in attracting top business users, which often need the highest-performance internet possible. Hopefully, these new plans will ultimately result in not only a dramatically increased customer base but also a reinforced bottom line that can be reinvested in SpaceX's ever-improving satellite internet constellation.
What do you think of the article? Do you have any comments, questions, or concerns? Shoot me an email at william@teslarati.com. You can also reach me on Twitter @WilliamWritin. If you have news tips, email us at tips@teslarati.com!