The Circuit (Buttonwillow Raceway)
Buttonwillow Raceway in Bakersfield, CA is a 3.1 mile long road course that looks deceptively simple to drive, but requires the utmost precision to master.  We've never seen as many cars spin out and lose control as we have at Buttonwillow.
The Tesla Model S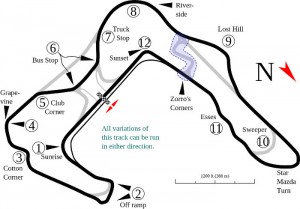 This track really shines a light on Tesla's advanced stability control system as we were was one of few cars that managed to stay firmly planted on the track. As you'll see towards the later half of the video, some of the other cars really struggled with staying on course. We saw at least one car every other lap sliding off the course.
It was the first time we've run at Buttonwillow Raceway so we greatly underestimated the complexity of the track.  Without Tesla's superb stability control we would have probably spun off the track a number of times.
The car pulls like a thoroughbred racehorse out of the gate and out accelerates most of the cars on the track – even a Porsche 911 Carrera as noted in the video. Power limiting on the Model S, as a result of the car's ability to self-cool the battery system, eventually activates sometime around the second lap, of a 3.1 mile course. That being said, you'll have a fairly short amount of time to compete at full power and get your best lap times in.

The Fun
Being a fairly technical track, it won't excite with high speeds, but there is a great deal of satisfaction to be had when you master a turn. For us it was being able to finally master the blind right that's cresting a hill also known as "Phil Hill".  What a rewarding experience that was!
The Dangers
When fine grained dirt off the shoulders gets blown onto the track, the effect are large dust clouds that linger on the course and completely limit driver visibility. Unless you're certain there is no one on the other side, do not drive through it at speed.
Tesla Model S Charging and Power Consumption
The first ten lap session consumed 90 miles of range for 33 miles of actual distance covered. Subsequent 6 lap sessions consumed approximately 60-70 miles.
The track has a number of 240V outlets at designated RV spots. They are not free and cost about $20 per day. We found that some of the outlets provided a charge at 30 amps while others didn't work at all.
The Tejon Ranch SuperCharger is 50 miles away.
Track Tips
Take advantage of the first two laps and get your best lap times before power limiting really starts to kicks in.
Run half of each session and recharge in between, so you have enough power to run 4 sessions and stay competitive in the first half. Save power on warm-up and cool-down laps.
On 20" G-Force Rival tires, the car was sliding a lot until we lowered the pressure to 35 psi (hot). Not sure if the lower pressure would be of benefit or detriment, but the car finally felt good at 35.
Summary
It's a technical track and perfect for the Model S even in the standard configuration. The only detriment to the racing experience is that the power limitation starts kicking in after a couple of laps.
By the Numbers
Location: Buttonwillow Raceway
Track Length: 3.1 miles
Top Speed: 113 mph
Lowest Optimal Tire Pressure (20" G-Force Rivals): 35 psi hot
Max Later G: approx. 1.5
Run Group: Green (Intermediate) with "Extreme Speed Track Events"
Best Lap Time: 2:19.681 (for comparison, the fastest car in the class was 2:11 and the slowest – 2:33)
Best Place in the Class: 12
Lap Time Slip after Model S Power Limitation: 7 seconds
Want to know more?  Leave us a comment below!
Also see: Tesla Model S takes on famed NASCAR track
[learn_more caption="Disclaimer"] The information contained in the "48" Tesla Racing Series is for general information purposes only and is not meant to serve as an endorsement for track, competition or activities around racing. Our endeavor is to simply showcase the amazing performance capabilities of the battery powered Tesla Model S sedan.[/learn_more]