Following our review of how Tesla's new keyless driving feature works, we'll be taking a closer look at another new feature of Firmware 6.0 – the Calendar app.
Tesla Firmware 6.0 Calendar App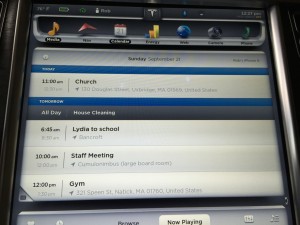 The Calendar app., currently in BETA at the time of this writing, appears as a top level application alongside Nav, Web and other frequently used features of the Model S. Clicking into the Calendar will list your current day's calendar events as well as the following day's worth of events.
The following need to be taken into account in order for the Tesla Calendar app to work:
Version 2.0 or higher of the Model S app on your smartphone
You must provide access to your smartphone calendars to the Model S app
The smartphone and your car must have internet connectivity and paired via bluetooth
Allowing the Model S mobile app to access to your calendar events also means that your data is being sent (and stored) on Tesla's servers which then in turn sends them down to you car's 17″ touchscreen for you to view. While this is a common method to synchronize data between source data and third party apps that use it, it does call into question some of the security aspects with such an approach. Is my calendar information open to Tesla employees? How do they ensure this private data is secured?
The calendar data is sent periodically to Tesla therefore it's not instantaneously reflected on the Model S Calendar app. The timestamp for when the last data synchronization occurred appears on the upper right corner of the calendar alert.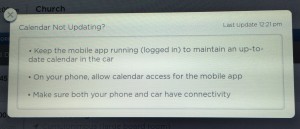 You're given the ability to set when the Calendar app appears upon entering the car (under settings).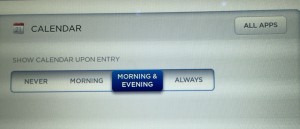 Tesla Firmware 6.0 Calendar app will display all upcoming appointments for the current day as well as the following day. If there are no events for the current day, the app will show only following day's appointment. There's no ability to look beyond that date range. A really nice added feature of the Calendar app is the ability to navigate directly to your event's location if you click on the event itself. Pressing on the event will feed the associated event location directly into the Tesla Nav app. Turn-by-turn navigation launches assuming the calendar event location can be found, otherwise you'll be prompted with the standard navigation search results.
Tesla Firmware 6.0 Release Notes indicate, "When you have an event on your Calendar that will take place within the next hour and has a uniquely specified location, the Model S navigation system will notify you if there is a better route due to traffic, even if you're not using navigation." This is something I have yet to experience so I'll be keeping a close eye on it over the coming weeks.
Device Compatibility
My original review of the Calendar app was done via an iPhone 5 running iOS 8 however I was unable to make it work. I followed all of the steps Tesla outlined within its notes but even after six hours I did not see my calendar events appear within the Model S display. I later found out that un-pairing the bluetooth phone first and then pairing again will allow the data sync to take effect. Since I was already getting an iPhone 6 the following day, I decided to use it as my device to review the Tesla Calendar app. It paired instantly and worked without a hitch. All of the calendar events synchronized and I was able to see both my iCloud calendar entries as well as my Google Apps calendar events from the car.
NOTE: All calendars that you're subscribed to will appear on the Model S even if it's set as hidden or disabled on your smartphone.
I'd like to see Tesla provide an option to hide/unhide selected calendars from within the Calendar app or somehow synchronize with the smartphone's calendar settings.
Summary
Despite Tesla labeling this as a "BETA" app, it performs quite well with no noticeable bugs or major issues, especially after the initial data sync is complete. That said, I still think there should be some statements around privacy as well as an added feature to show/hide various calendars within the Calendar app itself. But overall I think its a great addition to the car.
RELATED: Tesla Firmware 6 Reviews