The Tesla Model S FobPocket provides form and function to the factory key fob.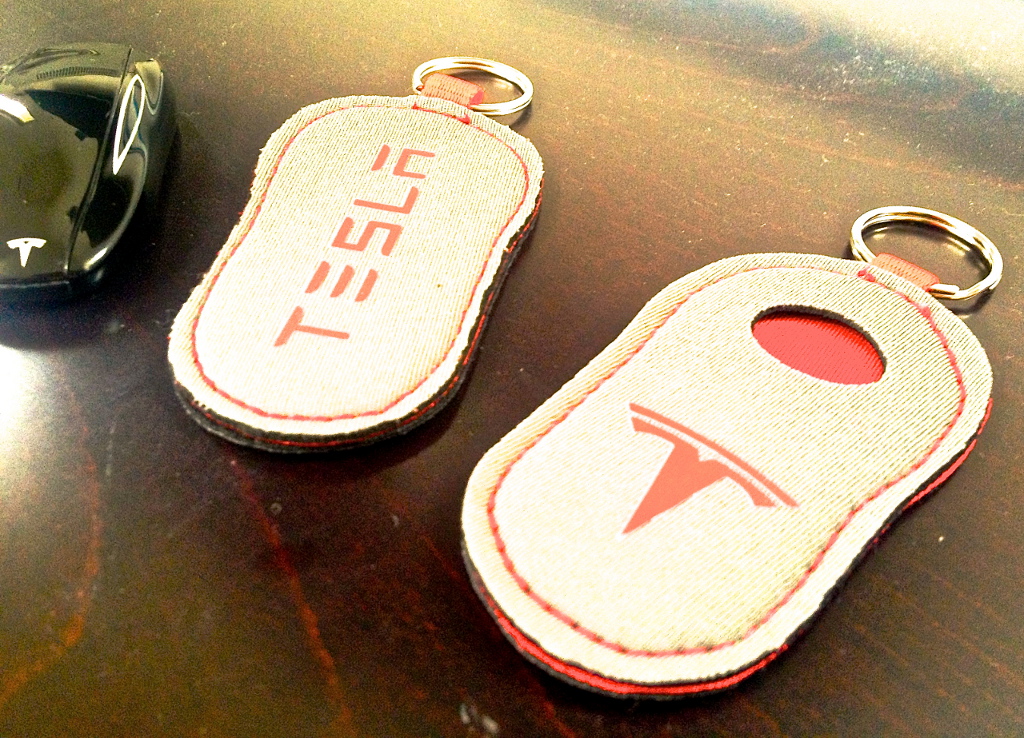 One of the biggest tests of skill and patience that every new Model S owner faces is figuring out how to attach an existing keyring to the car-shaped Model S key fob.  The key fob is sleek, it's shiny, it's shaped like the car, and it's cool as heck with depressible sections of the car throughout. Click on the trunk portion of the key fob and life begins to imitate art as your Model S trunk magically opens. Click again on the front section of the key fob and suddenly the front trunk ("frunk") pops open.
All fine and dandy until the novelty quickly subsides to one of confusion and concern, and you're left wondering – "where the heck do I put this tiny car shaped fob so that it doesn't get scuffed up and how do I get my house keys attached to it?".  Thus the "FobPocket" Tesla Model S key cover was born.
Related: Tesla Model S Deluxe Key Holder Review
Slip the factory Tesla key fob through a hole in the neoprene-like sleeve and it instantly becomes protected from loose change, keys and other knick knacks that cohabitate within your pocket (or purse). At the tail end of the FobPocket is a … wait for it … wait for it …  a keyring!
Our  initial impression of the Classic FobPocket was that it was a nifty little product that served its purpose well, and while doing it all in style. Our FobPocket has withstood the ins and outs of 4,000+ miles of use, and remains solid although the edges have started to curl.  We felt that the craftsmanship of the Classic FobPocket could have used a bit more polish as noted by the lack of precision in stitching and the rugged cuts along the fabric's edge. However the wide selection of colors along with its great price point at just $10.99 ea. makes the FobPocket (www.abstractocean.com) one of the most valued and best investments we have made to date.  It's definitely a must-have item for every Tesla owner!
Editor's Note: For those looking for a cheaper alternative ($2.99 ea.), many Model S owners have had success using a traditional USB Flash Drive case which can be picked up through Amazon.com.
Loss Prevention Tip: Attach a Wireless RF Key Finder
 to your FobPocket and electronically locate it within a 60ft range of you. Read more about Tesla key fob loss prevention.