Choosing between 20 inch versus 22 inch wheels when building your Tesla Model X is often one of the biggest internal debates one can have. After all, there aren't many choices to be made when it comes to altering the aesthetics on a Model X beyond wheels and the selection of your badge of honor. But depending on your wheel selection, in specific the diameter of the wheel, it could have a significant impact on range to the tune of a 10-15% difference.
One may recall that I went through the process of selecting the best winter tires for my Model S last year. With over 45,000 miles on my original factory all-season tires and winter just around the corner, I'll be needing to go through the process once again. The process has made me think a lot about tread wear, traction, and costs associated with each brand and type of tire, but admittedly I've never paid too much attention to size and efficiency. But recent information being revealed through Tesla on Model X and Model S range impact as a result of wheel selection, this has stimulated me to rethink my points of view.
Model S 19″ vs 21″ wheel range impact
Tesla provides a range calculator on their Model S page that provides one with the ability to see the impact on mileage depending on a variety of environmental, speed and wheel factors.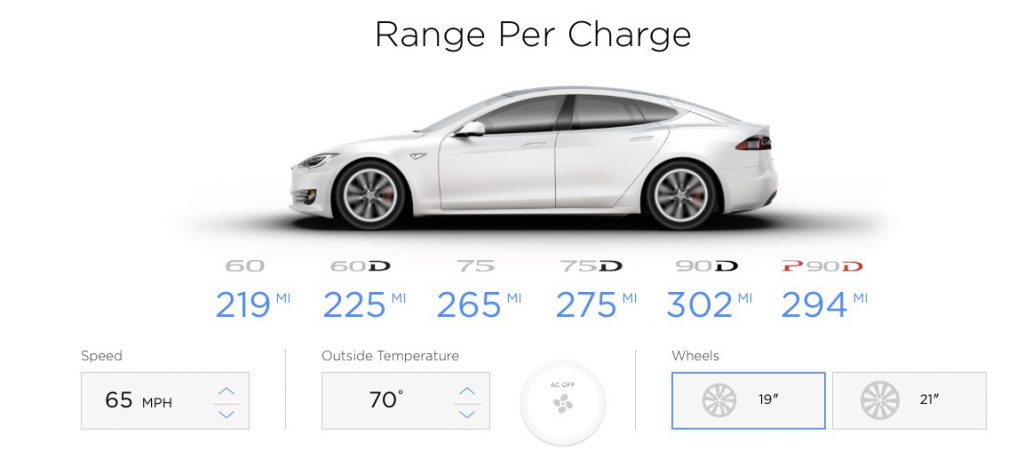 Clicking between the 19″ wheels and the 21″ wheels gives you the following results:
I don't know why the impact of the tire size isn't the same for each car or why the P90D is so much higher but this is what they provided.
The impact on range as a result of wheel diameter on the Model S is between 2%-4%. To put that in perspective, Tesla was charging $3,000 for the upgrade from a 70kWh battery pack to a 75kWh pack at the time of purchase. That's 7% more battery/range.
Larger wheels and tires are more expensive and they reduce your range, but on the Model S, the difference is small enough that it doesn't create much concern.
Range impact on Tesla Model X: 20″ vs 22″ wheels
Tesla doesn't have the same range calculator for its Model X, but their Design Studio reveals a rather significant loss of range if one were to select the 22″ wheels.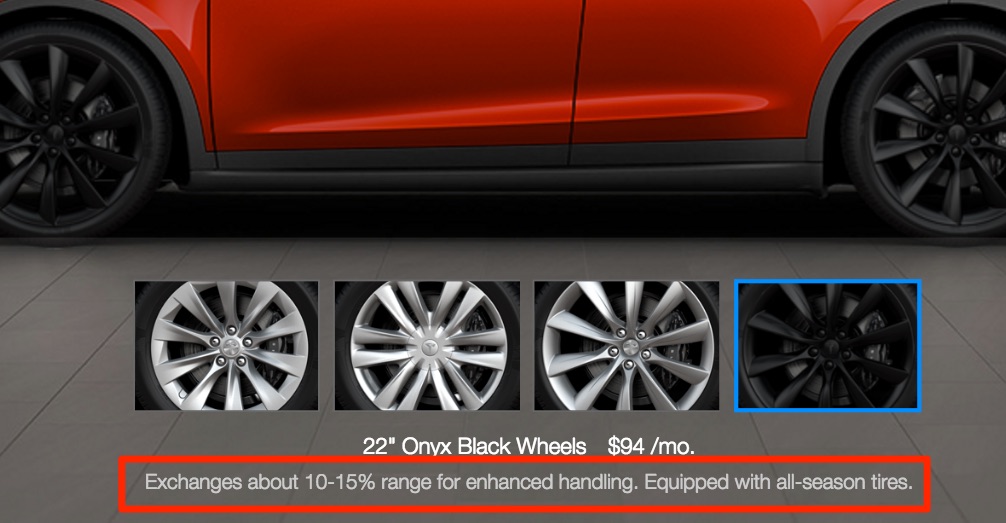 WOW! According to Tesla, choosing the Model X 22″ Onyx Black Wheels or 22″ Silver Turbine Wheels will result in a massive 10-15% loss of range, or approximately 40 miles (64 km).
Model X 22″ wheels will cost you 10-15% in range loss vs 20″ wheels
You would effectively be paying an extra $5,500 for the 22″ wheels and tires to lose approximately $10,000 worth of range (assuming a battery pack upgrade). At first, I thought this was some kind of website error, but Model X owners across forums and Facebook are confirming gains of 10%-12% by simply swapping out their 22″ wheels for 20″ wheels. If you're looking for range, those 22″ wheels are not the way to go. I guess, as the old saying goes, there's a price to pay for beauty.
Summary
Tire size on the Model S has little impact on range, but on the Model X, the impact is relatively large. As you're configuring your next Tesla you should carefully consider the tire size and the relative importance of range versus handling.
Larger tires cost more, wear out faster, and use more energy. Those larger wheels sure look and feel great, but for many of us, range and efficiency are our king and queen.