ChargePoint announced today it has officially installed the first-ever electric vehicle charger at Starbucks as the companies' partnership, which includes Volvo, has officially taken off.
The partnership, first announced in March, will have various Starbucks Coffee locations allocating 60 charging locations at 15 different franchises along a 1,350-mile route between Denver and Seattle. The chargers are supplied and funded by ChargePoint and will offer charging to all vehicles for a fee or at a discounted rate for Volvo owners.
The plan places chargers roughly every 100 miles, where those looking to charge their electric vehicle will be able to sit and enjoy the Starbucks location as they wait for their vehicle. The chargers will be fitted with CCS and CHAdeMO connectors, not offering an option for Tesla drivers.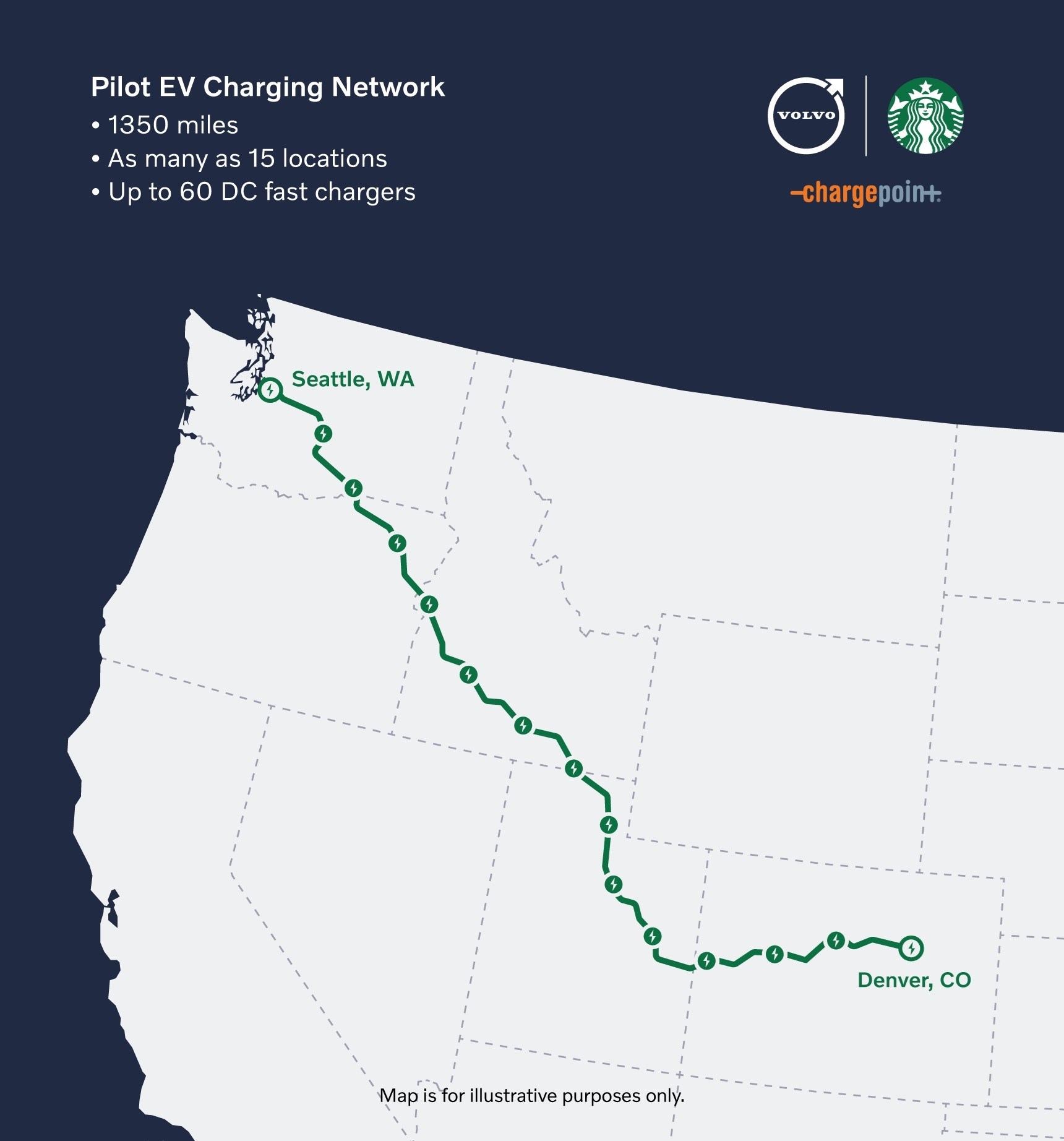 While the initial partnership in March outlined the plans, this announcement marks the first of these chargers being placed. Four chargers have been placed at a Provo, Utah Starbucks location, and more sites are planned to be unveiled as part of the route soon.
Representatives from each company were excited to announce that they would be working together, especially as their goals match so well. Volvo has previously announced that it will become a 100% electric car company by 2030, Starbucks has announced that it will be reducing its carbon footprint by 50% by the end of the decade, and ChargePoint is continuing to expand and hopes to ensure electric vehicles become an ever more competitive alternative to ICE vehicles.
Starbucks' Chief Sustainability Officer Michael Kobori stated that "access to EV charging should be as easy as getting a great cup of coffee – and now, it can be." Meanwhile, Volvo Cars USA CEO Anders Gustafsson commented, "Volvo Cars is about giving people the freedom to move in safe, sustainable and personal ways." Finally, ChargePoint CEO, Pasquale Romano, stated that "with Volvo and Starbucks, we're creating a premium EV driving experience between the Rocky Mountains and the Pacific Northwest."
What do you think of the article? Do you have any comments, questions, or concerns? Shoot me an email at william@teslarati.com. You can also reach me on Twitter @WilliamWritin. If you have news tips, email us at tips@teslarati.com!