I've never been a huge fan of radio or TV because I just can't stand the ads. That's one of the big reasons why I found the Slacker internet music offering on the Model S to be so therapeutic – no ads along with the ability to rank, skip or pause songs as desired.
AM/FM Radio Controls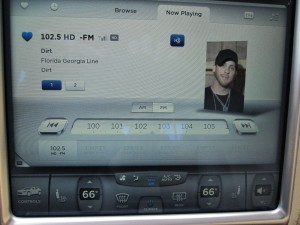 Tesla has done a really nice job on building an interface to AM and FM radio in the Model S. With the radio interface, you get a standard tuning dial that allows you to change bands through a simple swipe of your finger. The seek right and left buttons search for stations with good signals and like many cars you can press to save a favorite station.
The Model S supports both "standard" and HD radio which embeds a digital signal in the AM or FM bands that provides some extra information for each song. HD radio allows stations to offer multiple formats and programs on the same frequency. As seen in this photo I'm tuned into FM 102.5, but I have two stations that can be picked from, each playing something different although broadcasted on the same channel. From what I've read you can have up to three full HD channels on the same frequency. The other advantage that HD radio provides over standard radio is the ability to send digital song data such as album art.
The user interface appeared to be the same for AM and FM. Overall the interface was clean, friendly and super-intuitive.
AM/FM Reception
Other than the HD version which was new for me, these are the same radio stations you listen to anywhere, and they have the same age-old location and reception issues.
While I live in New England in a pretty populated area of the country, broadcast signals are spotty at times. AM is particularly bad in most places and even popular FM stations can be hit or miss. In my experience the Model S is worse at radio reception than other cars I've previously owned, most notably for AM radio. I had a slight buzz in the best AM stations on acceleration and a loud buzz in regen-assisted deceleration on the AM stations. This was pronounced enough that I added it to my list to have Tesla Service look into next time I have the car in, but I strongly suspect this is a design, not implementation issue.
ALSO SEE: Playing Music from a USB Drive in the Tesla Model S
For FM, I had no interference from acceleration or deceleration but there were very noticeable constant switch overs between HD and "standard" radio. That was annoying enough that I had to completely turn off the HD stream. For those not familiar with HD radio, these cut-overs and cut-backs only work on the primary stream. For instance if i'm listening to 102.5 #2 and the reception cuts out I get nothing. It can only fall back to standard radio when i'm listening to the #1 HD station.
Still Radio
This may be obvious, but this is still radio. You're inundated with ads, radio station ID notices, commentary from the DJs, etc. For some, that's added company and entertainment, but for others it's understood to be a necessary evil before getting to the music. In the new age of Pandora, Slacker and huge digital music libraries it's really difficult to go back to regular radio. The reception issues are not specific to Tesla but the nature of standard AM/FM radio. When was the last time you watched TV that came in over an antenna?
Fortunately for those that want the commentary, talk shows and the like, there's an alternative on the Model S by the name of  TuneIn radio which I'll cover in an upcoming post.