In a series of updates made to Tesla's Model S and Model X Design Studio late Thursday evening, the Silicon Valley-based automaker discontinued its P90D variant and welcomed in the P100D as the company's new king of the hill. This validates our early suspicions that Tesla would soon discontinue the 90 kWh performance variant after we spotted a flurry of new inventory P90D vehicles on the company's website.
The P90D once regarded as Tesla's main Ferrari killer, capable of blasting through a 1/4 mile in 10.8 seconds, has been sidelined and given way to the company's, now only, performance variant using a 100 kWh battery pack. Buyers of the Model S and Model X will no longer see the P90D upgrade available within the Design Studio when first selecting the 90D tile. In it's place is a section that reads "Max out your Tesla" which guides buyers to the P100D upgrade when clicked.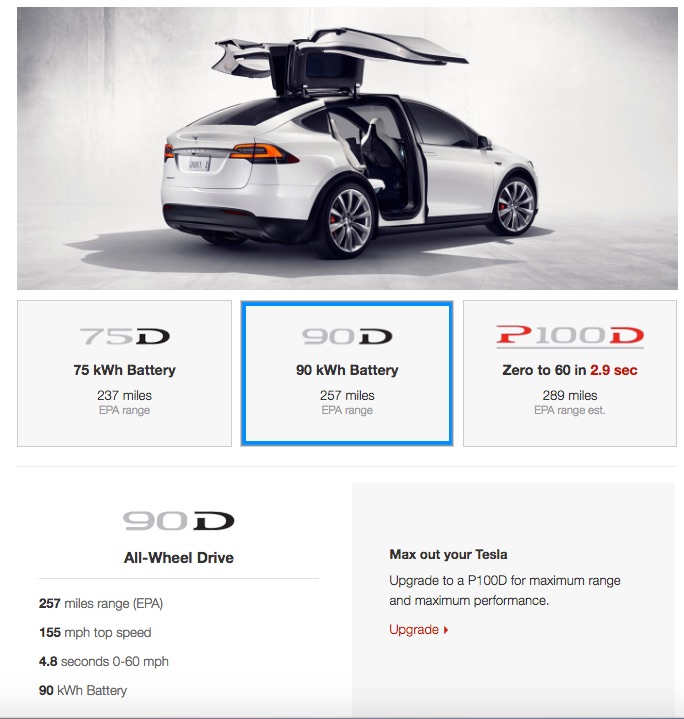 The 100 kWh battery used in the Model S and Model X P100D is Tesla's most sophisticated battery yet, and one that chief Elon Musk says will be the company's largest battery – for now. And there's likely good reason for that.
Ever since the "World's quickest production car" was unveiled by Tesla, drag racing veterans have attempted to set the 1/4 mile record in a P100D by pulling out all tricks of the trade when ripping through the 1320. Some even going as far as fabricating a Tesla race support system. But despite all of the efforts, the advanced P100D battery with revised liquid cooling was only marginally quicker than the P90D.
@danielringdahl @P100D Glad you like it! I think we will probably stop at 100 kWh on battery size.

— Elon Musk (@elonmusk) September 16, 2016
Show Me The Money
Tesla has likely reached a point of diminishing returns on the 100 kWh battery and any additional investment of engineering time and capital may not necessarily yield a favorable output. With very marginal performance differences between a P90D and P100D, and the ability to command a significant upgrade fee on the P100D, it was only a matter of time before Tesla discontinued the P90D.
By allowing only a single performance variant, Tesla is able to maximize profits through the premium price point of the P100D, continue to reduce product variations and streamline production.
If you're a performance junky that also supports Tesla's mission to transition the world to a sustainable future, the P100D is your go-to. After all the company openly admits it's a pricey vehicle. And bear in mind that smashing Lamborghini's in a grudge match also comes with a good cause.
"While the P100D Ludicrous is obviously an expensive vehicle, we want to emphasize that every sale helps pay for the smaller and much more affordable Tesla Model 3 that is in development. Without customers willing to buy the expensive Model S and X, we would be unable to fund the smaller, more affordable Model 3 development.", says Tesla.
Amen to that.