Tesla Motors was once again the proud spokesmodel for Panasonic at this year's Consumer Electronics Show (CES 2015) in Las Vegas. Booth-goers were treated with a rare glimpse of the much anticipated all wheel drive Tesla Model X Crossover said to be released sometime in early 2016.
MUST SEE VIDEO: Watch the Tesla Model X Falcon Wing doors in action!
The Model X captured on video appears to be the pre-production version which has been spotted across much of Los Angeles throughout 2014. Missing is the side mounted cameras which has been replaced by traditional side mirrors. The spacious interior along with three rows of seating allows seven adults to sit comfortably. The signature falcon doors of the Model X will be retained while other components such as the large center touchscreen display and dashboard will be borrowed from the Model S.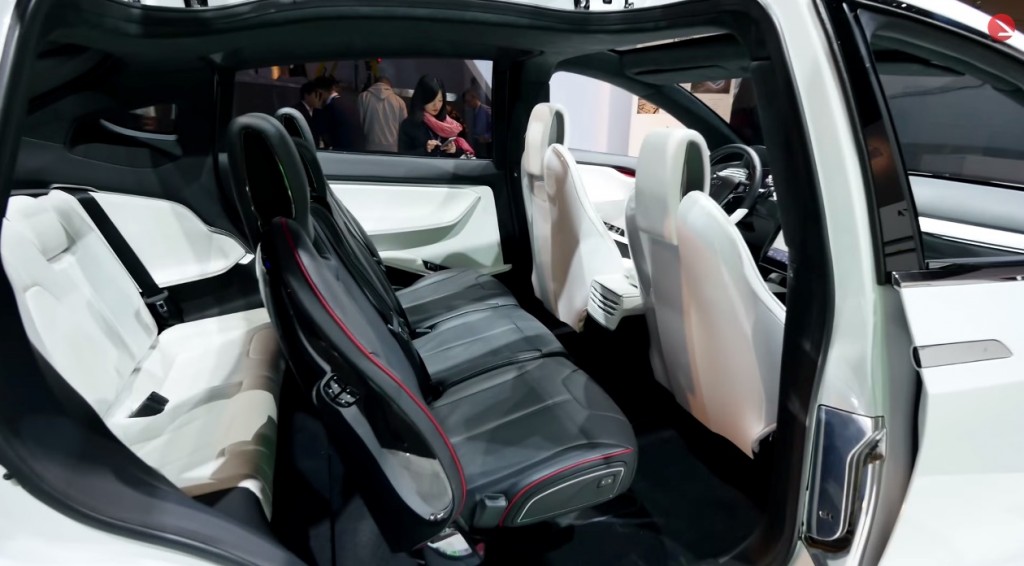 Panasonic and Tesla Motors entered into an agreement late last year in which the electronics giant will invest in the development of the Tesla Gigafactory and supply nearly 2 billion lithium-ion battery cells to be used for powering the Model S and Model X. After several production delays of the Model X rumored to be related to design challenges with the falcon doors, Model X early reservation holders are being notified that first deliveries will happen at the end of this year.
 SEE THE LATEST MODEL X SIGHTINGS: Tesla Model X Sightings and Spy Shots Gallery