Tesla has started rolling out its initial V10 update to members of its Early Access Program. Based on release notes that have been gathered from EAP members, it appears that Version 10 is primarily focused on making Tesla's electric cars one of the "most fun things" that anyone can purchase, bar none. 
Following are some key features that are included in the V10 update. 
Tesla Theater
Tesla Theater allows vehicles to stream video content provided that they are in Park and connected to WiFi. So far, Tesla Theater includes three streaming options: Netflix, YouTube, and Tesla Tutorials. The feature is accessed through the new "Entertainment" icon on vehicles' V10 Application Launcher. 
"Tesla Theater lets you watch movies and videos when your car is in PARK and connected to WiFi. To launch the Tesla Theater, tap the new 'Entertainment' Icon in the Application Launcher and select the Theater tab," the company wrote in Tesla Theater's release notes. 
Interestingly enough, Early Access Program members have reported that Tesla Theater currently works with their vehicles' cellular data connection. Perhaps such a feature would be enabled after V10's initial rollout, similar to Navigate on Autopilot's unconfirmed lane changes, which were also immediately accessible to EAP users and disabled on V9's initial release. 
Tesla Theater in the V10 Update. (Credit: Tesla Owners Online)
Caraoke
Caraoke is one of those fun features that could end up resulting in a new wave of viral videos on YouTube. The new feature allows users to sing along to their favorite track, though lyrics will only be visible on the vehicles' display while cars are on Park. Caraoke tracks are playable while driving, though lyrics will not be displayed on the screen. 
"Sing karaoke to your favorite songs and artists in your car. You can select 'Caraoke' from the Media menu. Tap the microphone icon to adjust whether the vocal track plays while you sgn along. Displaying the karaoke lyrics requires the car to be in PARK," Tesla wrote. 
Cuphead – Tesla Edition
Cuphead is arguably the most ambitious game to be ported on Tesla Arcade to date. The game, which features vintage cartoon art in a run and gun setting, will allow single or two-player campaigns. That being said, Tesla's release notes for the new title suggests that the current edition of the game in V10's initial release will only include the game's full first Isle. Considering that the full Cuphead game features three Islands, upcoming updates from Tesla will likely expand the title even further. 
"Cuphead is a classic run and gun action game inspired by cartoons of the 1930s and heavily focused on boss battles. For the Tesla Edition of Cuphead, enjoy the game's full first Isle as you play as Cuphead or Mugman (in single-player or in local co-op). Traverse strange worlds, acquire new weapons, learn powerful super moves, and discover hidden secrets while you try to pay your debt back to The Devil!"
"As with all Tesla Arcade games, your car must be in PARK to play. To access Cuphead, tap the Application Launcher, tap Entertainment icon > Tesla Arcade, then select from the menu. Note: A USB controller is required to play Cuphead. Game controller behavior may vary depending on make and model," Tesla wrote. 
Tesla Arcade welcomes Cuphead. (Credit: Tesla Owners Online)
(I'm Feeling) Lucky/(I'm Feeling) Hungry
Yet another feature that was borne from CEO Elon Musk's Twitter conversations, (I'm Feeling) Lucky or Hungry provides a fun, randomized angle to Tesla road trips. Tapping the "Hungry" button will give drivers directions to a local restaurant, while "Lucky" will provide directions to a "surprise adventure to a nearby attraction." This particular feature gives a certain spontaneity to the Tesla ownership experience, and will likely provide a helpful boost to local businesses that have Destination Chargers installed. 
"Feeling lucky or feeling hungry? Go on a surprise adventure to a nearby attraction by tapping Navigate > Lucky or get directions to a local restaurant chosen by your Tesla by tapping Navigate > Hungry. We have also updated the place popup to include easy access to a website associated with the location if one exists," Tesla wrote.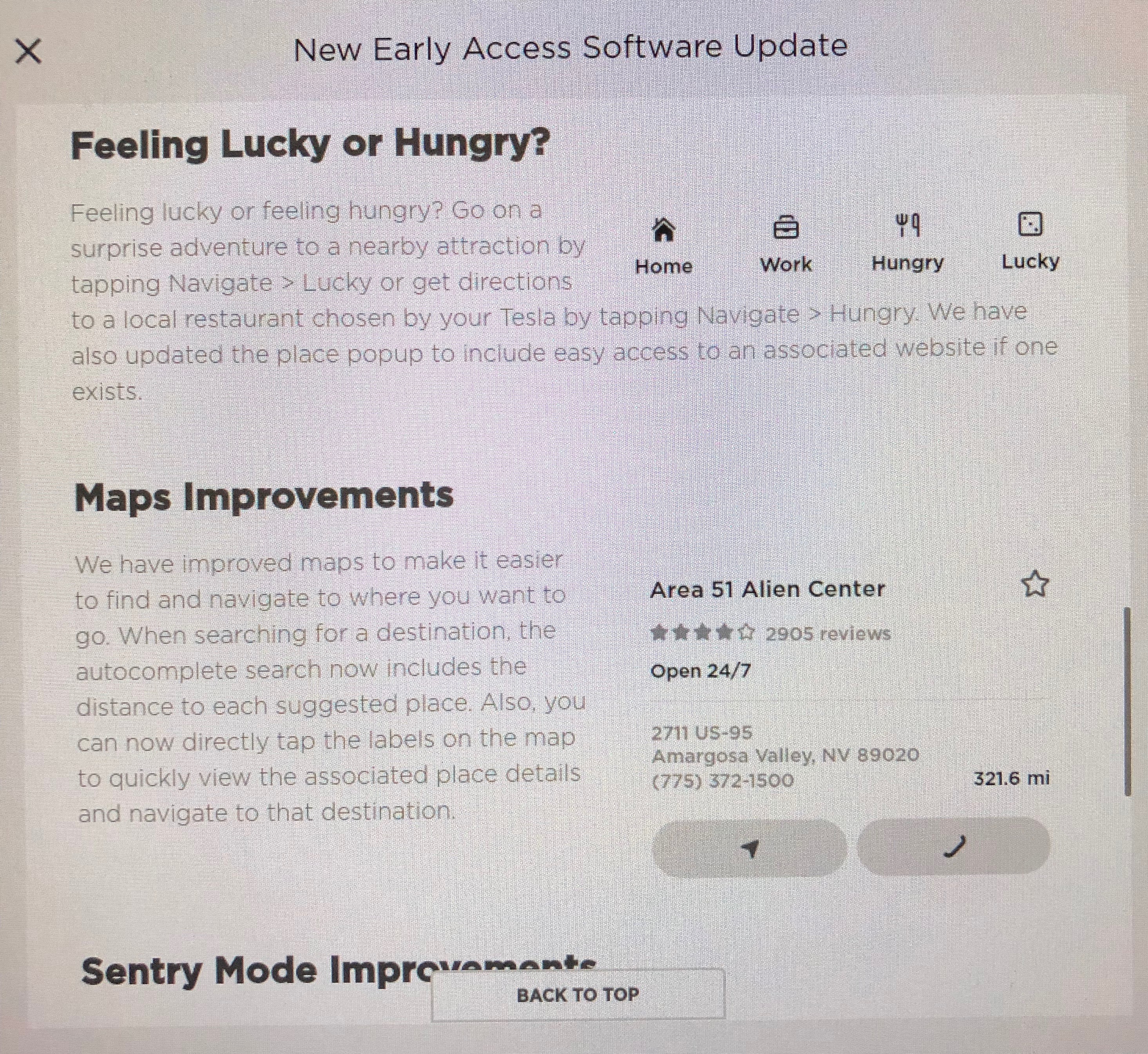 Yet another feature that was suggested by a Tesla owner on Twitter, Joe Mode makes a vehicle's alerts less disruptive to passengers. This feature would most definitely be helpful for parents taking road trips with small children, who could easily wake up when vehicle alerts are engaged at full volume during a drive. 
Joe Mode is the best mode https://t.co/UyvCSTEvNp

— Elon Musk (@elonmusk) September 15, 2019
"Enabling Joe Mode reduces the volume of your Tesla's chimes. The quieter chimes continue to alert the driver effectively and minimize disruption to passengers (e.g. Joe's kids). To enable Joe Mode, tap Controls > Safety & Security > Joe Mode," Tesla noted.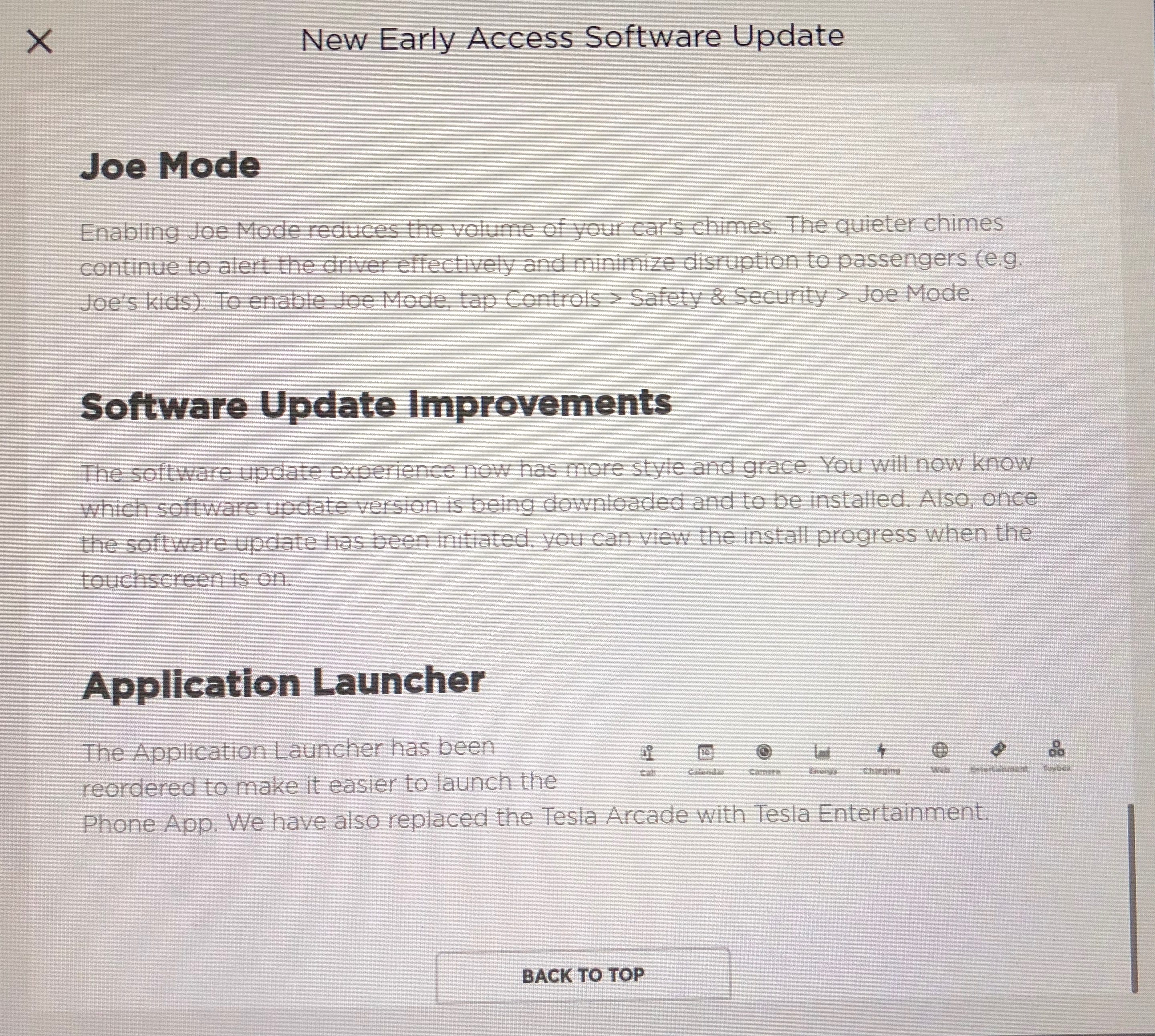 Sentry Mode, Maps, Automatic Lane Change, and Driving Visuals Update
Tesla's V10 update allows Sentry Mode to save video clips in a separate folder on a USB drive to make them easier to review and manage. Older Sentry Mode clips will also be automatically overwritten once there is no more space on the USB drive. As for the Maps update, destinations that are keyed in will now include the distance to each suggested locations, which would make navigation easier. Visualizations have also been revamped with V10, as could be seen in the adjacent lane being highlighted blue and the target car destination being outlined in white during automatic lane changes, and more detailed visuals being included for surrounding vehicles. 
Conclusion
One could immediately see that these V10 update release notes are primarily focused on extra, fun features on Tesla's vehicles, and not their core functionalities such as Autopilot and highly-anticipated Full Self-Driving capabilities such as Smart Summon. Reports from the Tesla community suggest that these features are also included in the V10 release to members of the Early Access Program, though no release notes on these new capabilities have been shared online as of writing. 
We will update this article accordingly once new information is available.
H/T Tesla Owners Online, Vincent Yu, Tesletter, and Sandeep Patel.