New data from Recurrent Auto show that used EV batteries are lasting far longer than critics claim.
Talk to anyone even remotely on the fence about buying an electric vehicle, and you will surely hear one worry above all others; "What happens when the battery dies? Those things are expensive," they will exclaim. This is often accompanied by a sarcastic smirk and a comment like, "it'll be dead and gone by 60,000 miles!" Luckily, new data from Recurrent Auto shows precisely what these claims are, myths.
Recurrent surveyed just over 15,000 EV owners and compiled some of the most detailed battery health data ever assembled, showing that EV batteries are lasting far longer than critics and owners have anticipated. Of their massive group of owners, only 1.5% had replaced their batteries outside of a recall or warranty period. Most of those were older Nissan Leafs lacking liquid battery temperature control systems.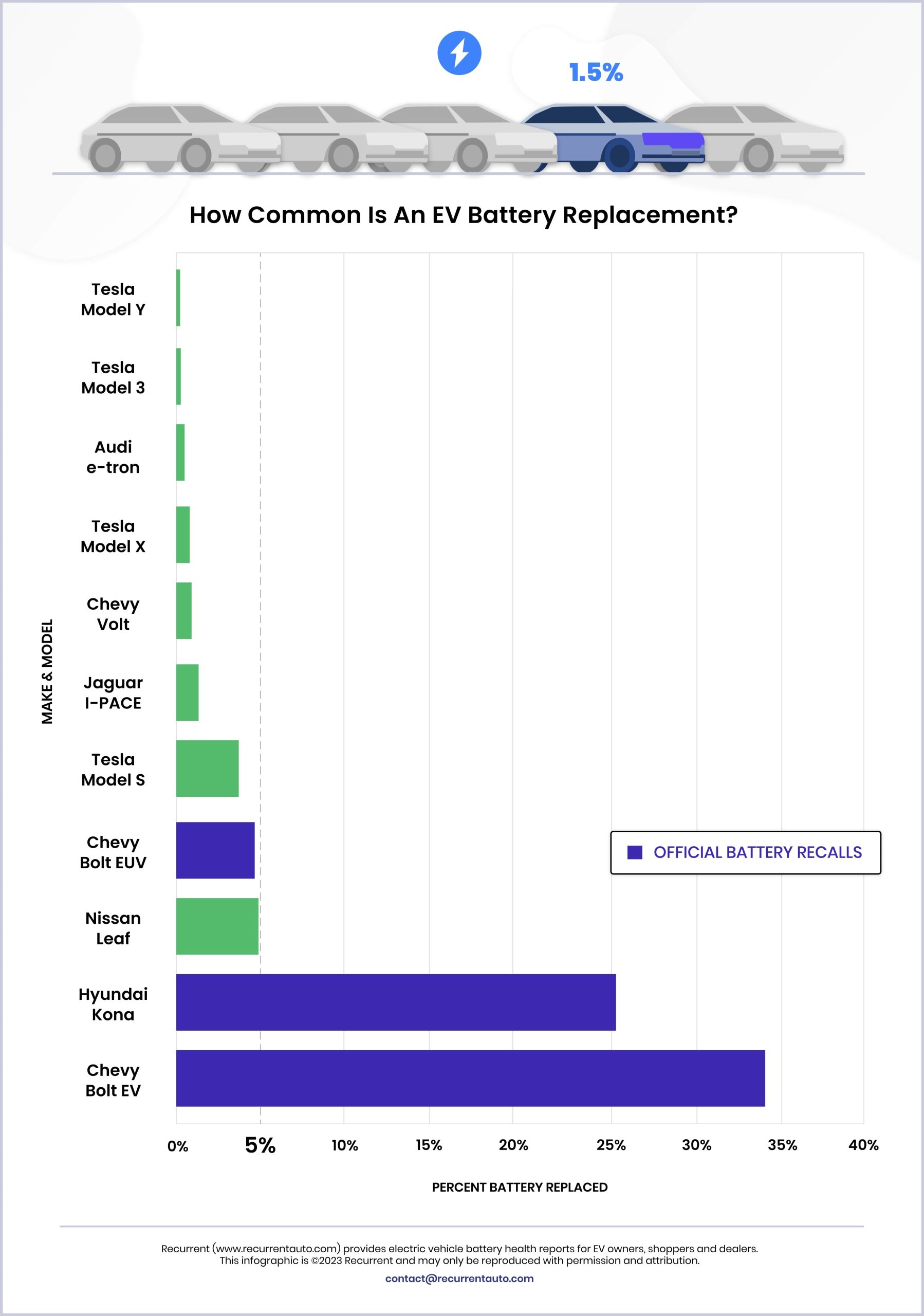 Recurrent's survey included data from 13 vehicle models, including the Tesla Model S, Model 3, and Model Y; Chevy Bolt, Bolt EUV, and Volt; Hyundai Kona; BMW i3; Audi e-tron; Nissan Leaf; Hyundai Kona and IONIQ 5; and Ford Mustang Mach-E.
Beyond the minimal number of owners who had been forced to replace their batteries, Recurrent found that battery degradation was not a linear phenomenon. From each of the surveyed groups, while the EV range peaked within 10-20,000 miles, it quickly degraded and flatlined as it approached 100,000 miles.
"It is encouraging to see this latest study as another challenge to the idea that electric cars are a ticking time bomb of maintenance costs," said Scott Case, CEO at Recurrent. "Vehicle ownership is full of surprises. While no one can change that, I hope that we begin to make sure that batteries are not one of those surprises."
Due to the relative novelty of electric vehicles on the market, significant amounts of data are not currently available on the effect of mileage above 100,000 miles. However, from many anecdotal stories, there does seem to be a trend of many vehicles retaining their range past the 100,000-mile mark.
Recurrent attributes this phenomenon to two main technologies; battery management systems and battery temperature control systems, both of which have dramatically improved the longevity of batteries. These systems not only allow owners to limit how much their battery is charged, which can substantially damage a battery's health, but they also ensure they are constantly operating at a safe and "healthy" temperature.
Perhaps the best takeaway from Recurrent's data regards the used EV market, which many sadly believe to be a minefield of risky cars with batteries on the verge of combustion. Thanks to the data collection Recurrent provides users and auto dealers alike, more and more people can feel confident about the battery health of the used EV they hope to buy.
What do you think of the article? Do you have any comments, questions, or concerns? Shoot me an email at william@teslarati.com. You can also reach me on Twitter @WilliamWritin. If you have news tips, email us at tips@teslarati.com!