When it comes to selecting floor mats for your car, you have dozens of options. You can go the simple route by choosing thin, same color and style carpeting used by the factory delivered floor material. That's what I got when I picked-up my Model S in June of 2013. Nothing impressive at all about them. Second is to get those laser cut, weather guard, plastic molded trays that resemble what's found in elementary schools or home mud rooms. Another choice is go all out and get the super plush, luxury, triple nap mats that will not necessarily protect your car's floor any better but will cost you a lot more.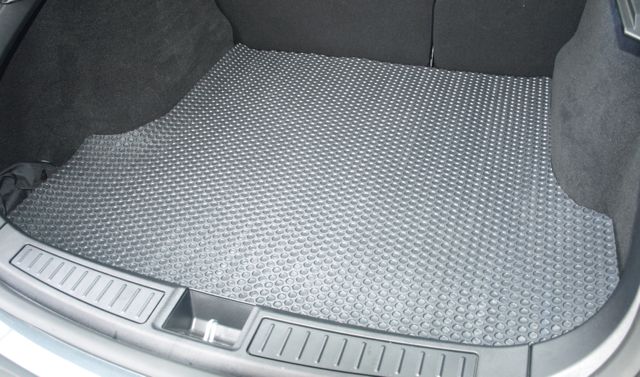 I would prefer to not have mats at all, but living in Chicago kind of makes that not so practical. I'm also reminded of my childhood, when my mother would insist on getting those plastic, see thru seat covers for our new car. My father bought a new car every two years and my mom was on a continuous mission to keep everything look as new as the first day she got it. But I digress.
I was never a big fan of the laser cut mats. I don't doubt they do a superlative job of protecting your car's floor My wife has a set for her Venza and they seem great. But they just don't feel right to me. And, if you have black ones, they never hold that shine after a season (channeling mom here). If I was going to get mats then I wanted something different for my Model S. I think I've found it.
Lloyd's Rubbertite Floor Mats
I opened a box of Lloyd's Rubbertite Mats custom cut for my Tesla. You can get a complete set that covers all floor surfaces of your Model S; that is front, rear, trunk and below trunk storage as well as the frunk.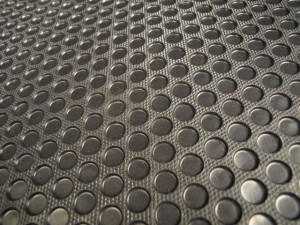 Out of the box they don't look that impressive. Various sizes of black rubber with no edging. But once you get them in the car they take on an entirely different look. The mat surface has a recurring pattern of depressed circles that are pleasing to the eye. When you peer into the car that subtle difference provides an appropriate accent to the strong interior of the Model S. It adds a sprinkle of that industrial look, but the smallness of the circles keeps them from taking control of your eye. Oh, and they have a dual purpose of capturing dirt and grime until you clean them.
The interior of the Model S, particularly in black, is the quintessential minimalist look. There is a sameness inside the cabin that causes the seats and floor to blend in and literally vanish from your mind's eye. The touch screen is elevated to be the hero of the interior, transforming it beyond a dashboard into more of a command center. At night, the screen is supported by the LED accent lights beneath the armrests in the front and under the forward seats as you ride in the rear. I think driving, or riding for that matter, in a Model S at night, especially when the sky is clear and stars abound, does not get nearly enough attention.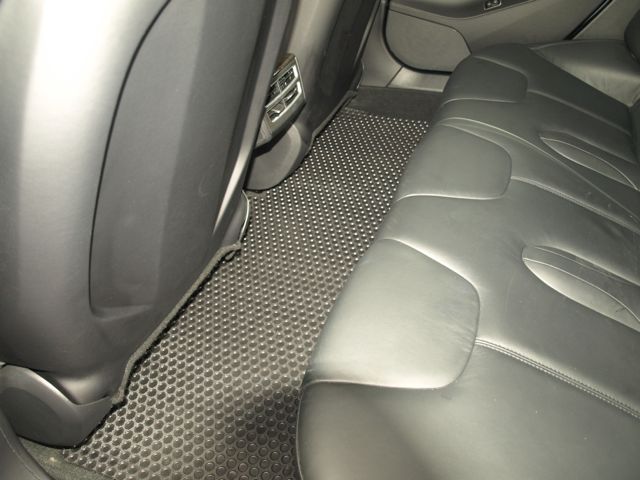 Since the Model S has no drive train to interrupt the cabin floor, mat makers have a new challenge. How to run a single mat from left to right. The rear Lloyd's mat along with the frunk, trunk and trunk stowaway fit absolutely perfectly. The front mats are a bit small. I'd love to have them come a bit further back toward the seat. One major advantage of the laser cut mats is they can be molded around the driver's side left foot support. The Lloyd's mats must leave that exposed to wear and dirt. The driver's side mat has safety fasteners, just like the other premium mats, to hold it safely in place, keeping it from riding up on the control pedals.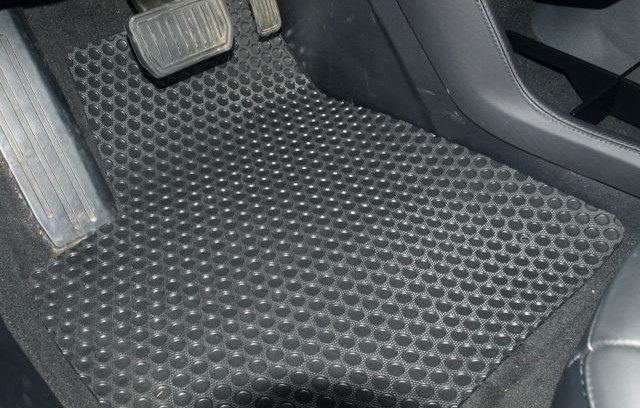 When I dropped the mats in, which took all of one minute, and took a spin, I noticed a very strong rubber smell. So heavy in fact that it overpowered the trace of that new car smell still wafting through the air a year and a half after delivery. Leave your windows down when you can to accelerate the dissipation of that smell. It goes a way in a few days.
It's early days in the cruel Chicago winter. In fact not a flake of snow or super cold temperatures as of yet. I'll be looking for how much these Lloyd Rubbertite mats remain flexible, how well they clean up and the endurance of their shine.