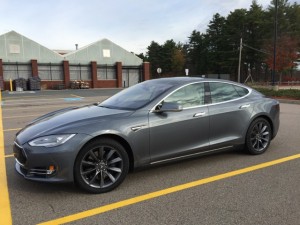 The snow has already begun to fall here in New England which means that my new set of Tesla winter wheels and tires will be put to good use very soon.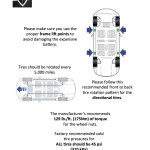 In preparing my Model S for the winter, I also put together a quick Tesla Model S Tire Cheat Sheet which outlines where the jack points reside on the car, recommended tire pressures as well as the torque rating for the lug nuts. The cheat sheet was given to my tire guy which hopefully served as a good reference point.
The installation was simple and quick. The tire place used two heavy duty hand jacks to lift the entire left side of the car, take the tires off, put on the new ones and then repeat on the right side. They used an air wrench to take the nuts off and put them back on before lowering each side.
The air wrench was limited to 100 lbs/ft torque and they hand tightened to the recommend 129 lbs/ft torque after all four wheels were on and the car was back on the ground. DIY'ers can follow along through this great video that describes the entire wheel swap and TPMS reset process.
Driving on Winter Tires
The Nokian Hakkapeliitta R2 winter tires have provided a different type of driving experience all together. The tires feel "squishy" and definitely not as tight on the road as it does with the factory tires – expected. Everything I read about the Nokians indicated that I would expect poor traction for the first few hundred miles (300 miles is a good rule of thumb) so I decided to play it extra safe and avoid any type of quick acceleration and quick turning during the beginning phase. There's no question that the winter tires were more slippery during the initial "break-in period", but after surpassing the 300 mile-market point, I started pushing them a bit harder to see how they behave on both wet and dry conditions.
RELATED: How does the Tesla Model S Traction Control system work?
Some Tesla Model S owners have had concerns with tire slippage during acceleration on dry pavement as seen in the video below.
Summary
Although I didn't experience tire slippage during hard acceleration and quick deceleration on the Nokians, extra caution still needs to be had when driving your Tesla on winter tires especially when there's no snow left on the ground, either because it got cleared or melted away.
Overall I've been happy with the new Nokian winter tires and I love the look of my new TST wheels (my dedicated winter wheels) . I'm looking forward to driving the Model S once there's more snow, ice and slush on the ground. This is where the Nokian winter tires should really begin to shine, but more importantly carry me through a harsh New England winter in one piece.