Nick Howe's "Owning Model S" book has been receiving rave reviews from Model S owners and enthusiasts worldwide. But despite the temptation to purchase it, I held off on buying the paperback because I've been waiting for the e-book version. Well it's finally here and I'm ecstatic to be reviewing it.
The e-Book
I consider myself pretty well read on the Model S from browsing through forums and blogs, but what surprised me most about 'Owning Model S' was that there was an abundance of hidden tips and useful information on the Model S that I never knew about. Not only is the book rich with content and contains excellent narratives, diagrams and pictures, but it's also really well structured.
Forums are great for an interactive social discussion and you have the patience to comb through the noise, but they can drive you crazy if you're just trying to find a specific piece of information! The book reads really well from front to back and also serves as a great reference guide. The sections are laid out in a very organized manner which allows you to quickly find the information you're looking for.
As $16.95 the book may run a bit pricier than other traditional e-books, but given the considerable amount of time that went into the research and production of the book, I think it's worth every penny.
e-Book Benefits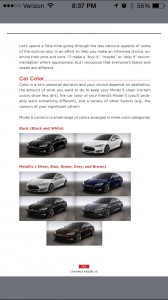 I usually install my e-book on multiple devices ranging from my desktop computer, a laptop computer, my iPhone 5 (and later 6) and my iPad mini. My e-books can be read on many popular devices. Having this type of access allows me to read it wherever I am and regardless of my device.
e-Books also come with a quick search capability that your traditional paperback doesn't have. With the e-book you're able to search by keyword and jump directly to the information you need. Much like a physical book you can also highlight sections of the book and mark key pages. The images in 'Owning Model S' are in high quality so you're able to pinch zoom without it being distorted.
I made the move to all e-books years ago for many of the reasons above and I think the e-book format is the only way to go.
e-Book Challenge
Authors like Nick Howe have to be concerned about people copying his work and distributing it freely. That means Nick needed to protect his work through a Digital Rights Management (DRM) system. I've never published an e-book before but one thing I do know is that it's possible to get published on the Amazon Kindle store. Considering Amazon provides readers for all platforms including one of the most popular e-book readers in the world, it's hard to understand why 'Owning Model S' did not go down this path, thus limiting itself to distribution and convenience for its readers.
For "Owning Model S" they went with an Adobe DRM format that requires a special e-book reader you're not likely to have used before. The process for getting the reader involves registering an account with Adobe (many people won't have accounts with Adobe before this), downloading the reader (not by Adobe if on a mobile device) and finally opening the encrypted book which you should have received via email after purchasing online from EVAnnex. You'll have to repeat this set up using the special reader on every device that you intend on using.
It's confusing and it's a pain. But to their credit, they do provide helpful instructions on how to move through the process. Amazon Kindle is unfortunately not supported, and don't even think about reading this from your Model S 17″ touchscreen.
Other features missing from the reader is the ability to synchronize your read position across devices and the ability to select and copy text. Another really odd feature or lack thereof is the ability to click on URLs. And since you can't copy text, there's no way for you to copy the URL and paste it into a browser.
Ultimately, 'Owning Model S' is one of the most comprehensive guides for the Model S and a must have by all owners. I would love to see Nick put the book on the Amazon store one day and open distribution up to more devices and potential readers.
The Model S is an amazing feat of technology, but you don't have to be a geek to drive it. That said, you shouldn't have to be a tech savvy geek to be able to read about it either.