Tesla has begun to roll out an updated version of Autopilot which brings incremental improvements to its Autopilot 2.0 driving-assist feature on Model S and Model X vehicles equipped with self-driving hardware.
According to firmware Release Notes for v8.1 (17.17.4) posted to Imgur, Model S and Model X owners to vehicles produced after October 2016 now have the ability to use Autosteer and Traffic-Aware Cruise Control at speeds up to 90 mph – a 10 mph increase from the previous firmware version.
The release notes also indicate that the speed limit for off-highway use of Autosteer has been removed. Instead, use of Autosteer on local roads will be functional at any speed up to 5 mph above the detected speed limit.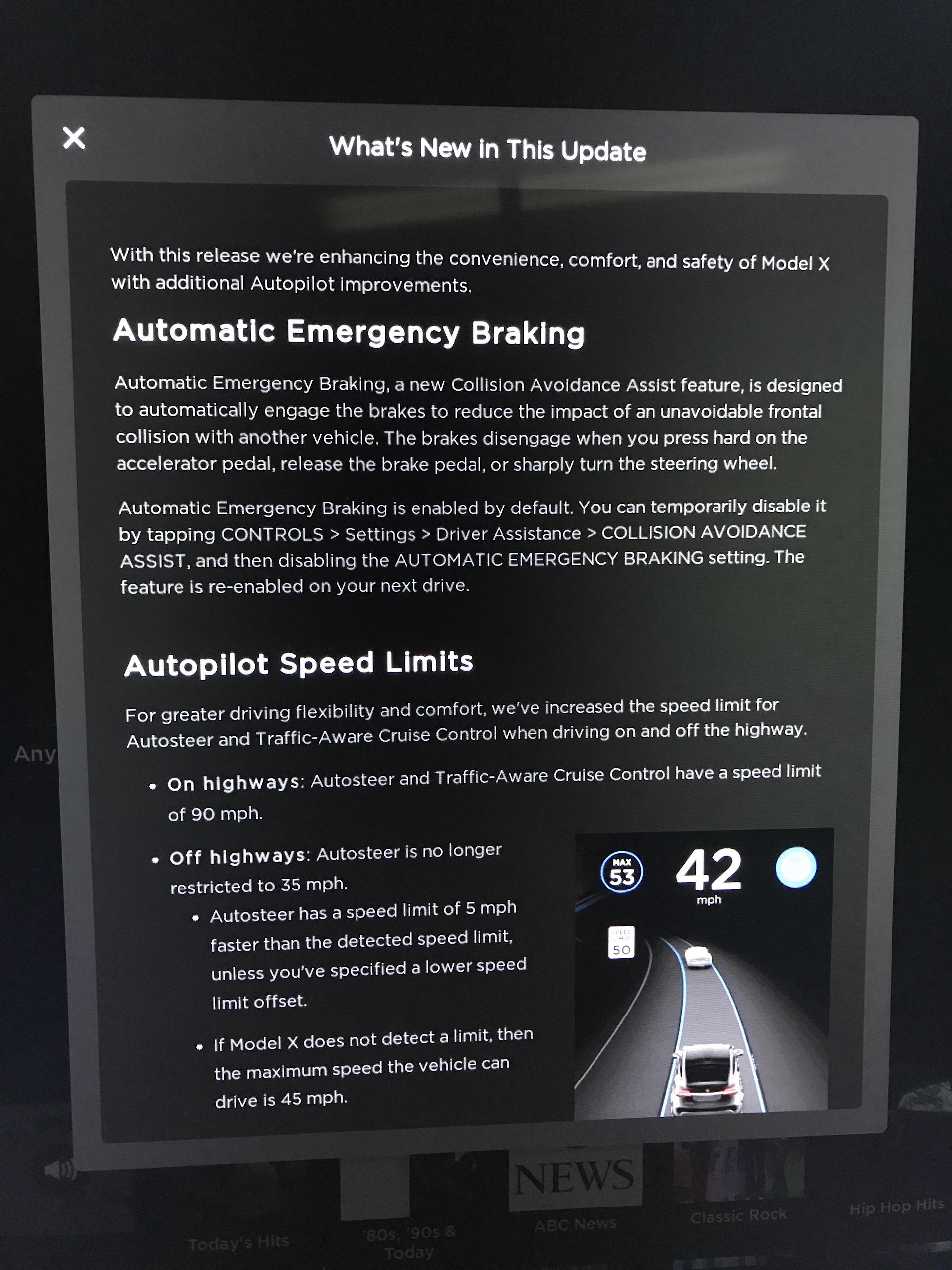 Along with Autosteer and TACC updates, release notes for v8.1 (17.17.4) also confirms a wide roll out of Automatic Emergency braking – a previously missing feature on new "hardware 2 cars" that Consumer Reports faulted Tesla on – Side Collision Warning enhancements and the Auto High Beam feature.
This latest release further validates Tesla's plan to roll out driving-assist and safety features on an incremental basis, and as they become validated over time. The Silicon-Valley electric carmaker came under heat in recent weeks after a class-action lawsuit alleged that Tesla had "'inoperative standard safety features' on Autopilot 2.0 cars". Tesla fired back with a statement saying that the company has always been transparent about its incremental software updates.
"This lawsuit is a disingenuous attempt to secure attorney's fees posing as a legitimate legal action, which is evidenced by the fact that the suit misrepresents many facts. Many of the features this suit claims are "unavailable" are in fact available, with more updates coming every month. We have always been transparent about the fact that Enhanced Autopilot software is a product that would roll out incrementally over time, and that features would continue to be introduced as validation is completed, subject to regulatory approval."
Following today's software update, Tesla Autopilot 2.0 vehicles will almost be at feature parity with Model S and Model X vehicles equipped with first generation Autopilot.
Redditor tepaa notes, "What's left on the feature parity checklist still?"
Automatic wipers
Automatic headlights
Automatic high beam dipping
Sensing / display of cars in adjacent lanes
Autopilot at high speeds
Speed limit sign detection
Emergency braking
Perpendicular parking