Tesla Model S tire rotation and care tips that can help improve mileage and maximize the life of your tires.
One of the most widely discussed topics among Model S owners is the aggressive wheel alignment setting from the factory. The Tesla Model S has world-class handling that rivals the best performance vehicles, but having this award-winning handling performance comes at the expense of tire longevity.
Wheel alignment is broken down into three major angles of orientation; camber, caster, and toe. These components are fundamental to preserving handling performance and tire tread life, but finding the perfect balance between these dimensions can be a challenge.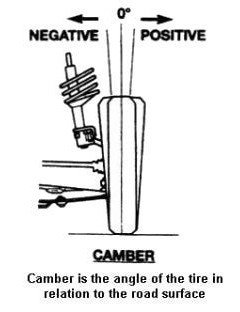 The camber angle (degree of difference between the wheels vertical alignment perpendicular to the road) on the Model S is set to an aggressive -2 degrees (factoring in the margin of error) as outlined in the factory wheel alignment chart below.   If a wheel is perfectly perpendicular to the surface of contact, its camber would be 0 degrees, but in the case of the Model S, the top of the rear tires are tilted inwards as a way to increase handling characteristics. Heavy cornering would yield more surface contact between tire and road, thereby improving grip.
However, during straight-line acceleration and everyday driving, negative camber reduces surface contact between tire and road – the net effect being a decrease in straight-line performance and additional pressure on the inner tire, which could lead to uneven wear.
Tesla Model S Tire Rotation
Tesla Motors suggests rotating tires every 5,000 miles (8,000 km) and performing an annual wheel alignment. However, many Model S owners have had no ill effects with delaying tire rotation until the 6,000 – 7,000-mile mark.
Tire Rotation Pattern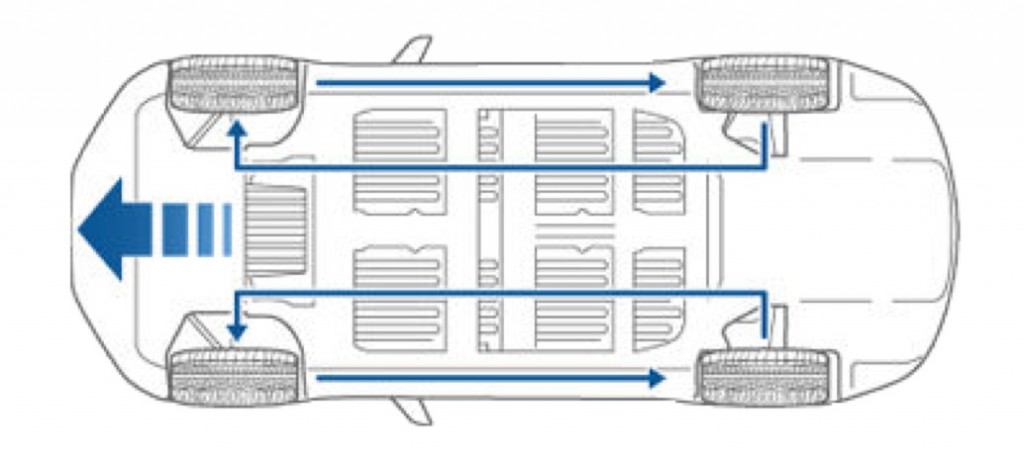 NOTE: Tire rotation pattern not applicable to Performance Plus Models due to the size difference between the front and rear wheel/tire combination.
Tire Specifications
Tips for Maximizing Tire Life
Regularly inspect the tire tread and sidewalls for signs of abnormal distortion (bulges), cuts or severe tire wear
Look for tire tread wear indicators which start to appear at the surface of the tread pattern
Related:
Routine tire rotation every 5 – 7k miles
Keep tires properly inflated 

(reference the "Tire and Loading Information" label inside the door sill).

Annual wheel alignment check
Avoid hitting potholes and curbs
Avoid frequent fast turning and heavy braking
Avoid hard acceleration
Tesla Model S Wheel Alignment Values
Location
Air Suspension
Coil Suspension
Front
Rear
Front
Rear
Camber
-0.75 +/- 0.35
-1.75 +/- 0.35
-.53 +/- 0.35
-1.55 +/- 0.35
Camber Split
-0.00 +/- 0.20
-0.00 +/- 0.50
-0.00 +/- 0.20
-0.00 +/- 0.50
Caster
4.00 +/- 0.50
n/a
3.70 +/- 0.50
n/a
Caster Split
0.00 +/- 0.20
n/a
0.00 +/- 0.20
n/a
Single Wheel Toe
OUT 0.05 OUT 0.15 (limit) IN 0.05 (limit)
IN 0.20 +/- 0.05
IN 0.02 OUT 0.08 (limit) IN 0.12 (limit)
IN 0.185 +/- 0.05
Thrust Angle
n/a
0.00 +/- 0.30
n/a
0.00 +/- 0.30
Suspension Bolt Height (at design)
213.5 +/- 5 mm
Standard models: 144 +/- 5 mm Performance Plus: 151 +/- 5 mm
230 mm (nominal)
158 mm (nominal)