If Unplugged Performance and BBS made a Tesla Model S wheel, it would look something like this.
Just a short couple of months after Unplugged Performance – the world's first Tesla exclusive tuning company – unveiled its own in-house developed Model S body kit, a new announcement comes that they have partnered with BBS Germany to produce a sleek and performance-ready Tesla Model S BBS wheel upgrade for called the UP-01.
In case you've been living under a rock, BBS is most widely recognized for its racing heritage having produced wheels for the likes of … ahem, Michael Schumacher who won four of his Formula 1 Championships on BBS wheels, but also a staple of high-end and light alloy consumer aftermarket wheels. Given Unplugged's no compromises approach and drive for innovation, it doesn't come as a surprise that they would choose BBS to co-develop the new UP-01 with.
"The long term vision for Unplugged Performance is to fill the role as the AMG equivalent for Tesla owners", says Ben Schaffer, CEO of Unplugged Performance. "Great brands require world class engineering partners and for our first wheel, the UP-01, we have followed the same path as Ferrari, Porsche and BMW in selecting BBS as our wheel supplier and partner,".
So, what's special about Unplugged's UP-01 wheel?
Well, for starters, it's damn strong; it looks the part and it has titanium.
Aside from its stunningly good looks, the Tesla Model S BSS wheel by Unplugged was designed to bring the best of both worlds – performance and durability without sacrificing ride quality. Apparently, the secret sauce behind it all is the BBS flow-form manufacturing process that allows them to produce extremely lightweight yet strong 2-piece wheels. This happens to be the same technology that also produces the wheels for Ferrari's F430 Challenge.
True to Unplugged's reputation as a tuner that creates innovative products, they've incorporated a removable stainless steel wheel protector onto each UP-01 that can be quickly removed within 5 minutes and without the need to deflate the tires. We know how much curbs love the Tesla Model S wheel so this enhancement alone is enough to have many owners wondering why the UP-01 couldn't have come along earlier. Also included are two choices of center caps (BBS logo and Tesla factory) that owners can swap between.
  
Strength in numbers
We all know by now that the Tesla Model S is a beast of a car in every sense of the word including its hefty weight. Unplugged's UP-01 was designed to not only withstand the weight of the Model S but at nearly twice the amount (weight supported: 8580 lbs). According to Unplugged, the wheel's extreme strength not only makes it resistant to damage but also provides a smoother ride by transmitting less vibration into the cabin.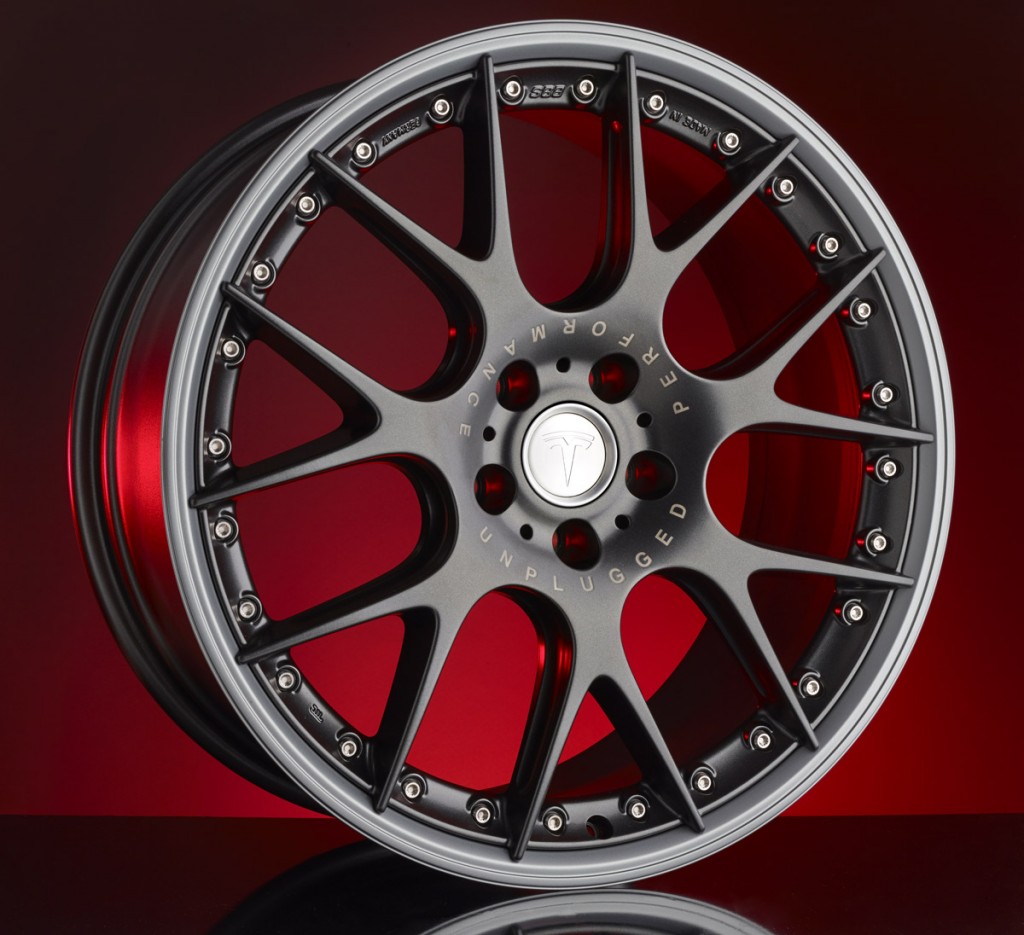 Unplugged Performance is a tuner that seems to lend itself to being the popular kid in town, but it's reassuring to know that the heart and soul behind it all is built on a foundation of unrelenting quality, risk-taking innovation and pure passion – a recipe that has really helped them become embraced within the Tesla community. These guys are here to stay and we can't wait to see what they turn out next.
The UP-01 wheels can be purchased directly through Unplugged or through distributor EVAnnex at $3,995 per set.