Reservations for new electric vehicles from many of consumers' favorite brands are marked in wait times of months and sometimes over a year, indicating supply shortage may be here to stay.
Recurrent Auto, a used EV vehicle health and analytics company, recently released their Q3 2022 used EV report. While the report may appear as bad news to many consumers looking to get their next electric vehicle sometime soon for a fair market price, it does indicate that the car market may be continuing its quick pace despite concerns of a recession.
When reading Recurrent's report, one thing that stands out is the ominous chart outlining wait times for a variety of electric vehicles from many different manufacturers. Pictured below, the Ford F-150 Lightning is indicated as not only backlogged for this year but next, the Tesla Model Y (America's favorite electric crossover) is waitlisted til almost a year from now, and the Rivian R1T is even scheduled for more than a year away. Americans' hunger for electric vehicles is insatiable.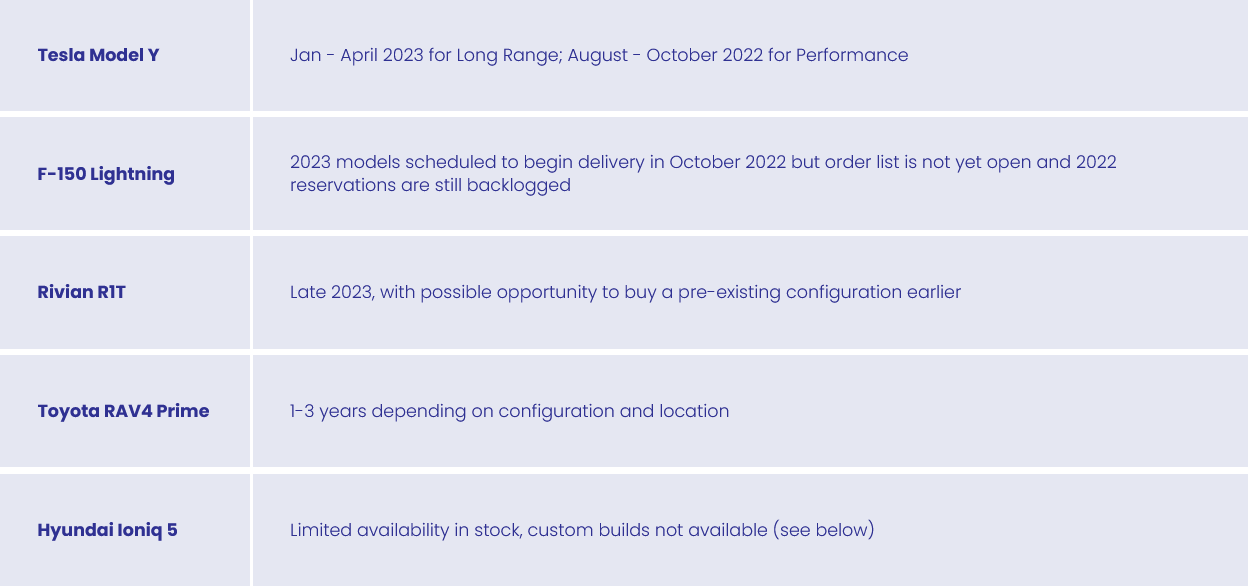 Bloomberg pointed out that the market share of EVs in the US has crossed the 5% mark; what they call "a tipping point" that will likely lead to near exponential growth, and other sites seem to confirm this theory. Flipping new or even slightly used electric vehicles has become the national pastime (just look up Rivian sales on CarsandBids), and Recurrent's data shows that every EV they monitored has become an appreciating asset (even the Chevy Volt).
Despite these facts, Recurrent still advises customers to buy now. While manufacturers are building new production facilities and the queues are slowly widdled away, market prices for many vehicles will likely remain high if not get higher. Otherwise, you will likely be forced to wait not months but years to buy a cheaper EV.
As gas prices remain high and knowledge and acceptance of electric vehicles become more widespread, the incentives to buy EVs are effective, yet many may be prevented from entering the market. While it seems as though there is no shortage of options for those willing to shell out $70,000 for a used EV, people looking for a $5,000, $10,000, or even $15,000 EV have very few options. Hopefully, through continued production and the slow trickle down to cheaper markets, an ever wider group of people here in the US will have access to buy electric.
What do you think of the article? Do you have any comments, questions, or concerns? Shoot me an email at william@teslarati.com. You can also reach me on Twitter @WilliamWritin. If you have news tips, email us at tips@teslarati.com!