Tesla started 2018 as an electric car maker struggling to ramp the production of its most ambitious vehicle. As Q4 2018 comes to a close, it is becoming apparent that Tesla is closing the year as a carmaker that can hold its own against the veterans of the hyper-competitive auto industry. Seemingly as a final flourish to an otherwise historic 2018, Tesla has registered what could very well be its final large batch of Model 3 VINs for the quarter, breaching the 190,000 barrier for filings of the electric sedan.
#Tesla registered 3,569 new #Model3 VINs. ~52% estimated to be dual motor. Highest VIN is 193556. https://t.co/ezA2Bas4Kh

— Model 3 VINs (@Model3VINs) December 30, 2018
Twitter group @Model3VINs, which tracks registrations for the electric sedan, recently reported that Tesla filed a rather large batch of 3,569 vehicles, comprised of both Dual Motor and RWD units. With this latest batch, Tesla has broken the 190,000 mark in total Model 3 filings to date. Among this number, more than 75,000 were registered in the fourth quarter alone. As noted by this graph provided by the Model 3 VIN tracking group, the Q4 2018 is characterized by a massive influx of RWD filings, possibly as a result of the introduction, production, and deliveries of the Mid Range Model 3.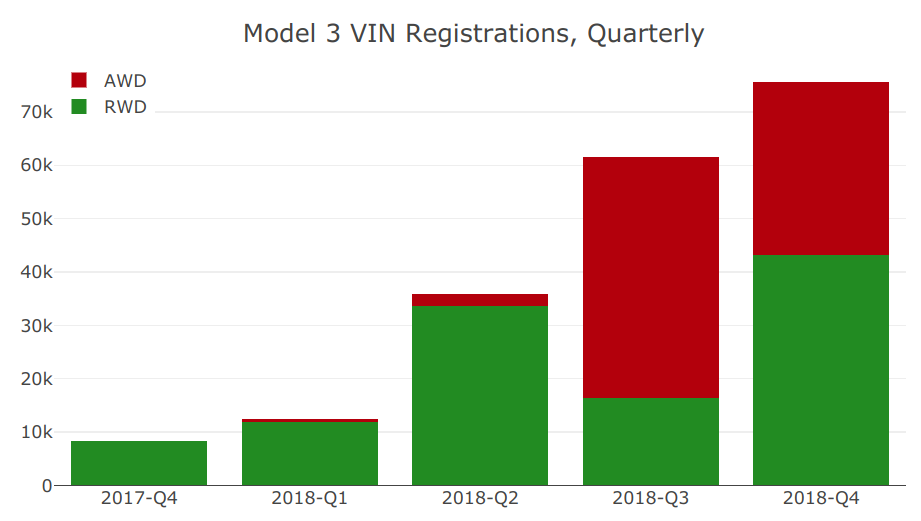 To keep the company's Q4 Model 3 VIN registrations in perspective, it should be noted that Tesla was only able to breach the 75,000 mark back in mid-July, roughly a year since starting the production of the vehicle. For a company that encountered hiccups with the Model 3 ramp, being able to register 12 months worth of cars in the past 90 days is impressive.
Tesla's Model 3 VIN registrations for the fourth quarter comes amidst reports that the company has reached a point where it is capable of producing 1,000 units of the electric sedan every day. As reflected by an alleged leaked email from Elon Musk late last month, as well as by social media posts from Tesla employees in the days and weeks after, it appears that the company's Model 3 output continues to improve.
A lot ! We're consistently hitting 1300+ a day. Getting close to that 1400 mark.

— VICKI SALVADOR (@VickiSalvador) December 16, 2018
With Tesla at a point where it is capable of sustained levels of Model 3 production, the company is now starting to lay the foundations for the electric sedan's international ramp in 2019. In Europe, for one, reports have emerged pointing to Tesla shipping 3,000 Model 3 per week starting in February. Deliveries of the Model 3 in China are also expected to begin within the next few months.
At the core of the Model 3, though, lies the vehicle and its demand. In several key regions such as the United States, after all, the Model 3 competes in a market that widely prefers SUVs and larger vehicles. Nevertheless, as the electric sedan's sales in the US and Canada have shown so far, the Model 3 is capable of standing out despite being a passenger car in an SUV dominated region.
As the Model 3 prepares to breach the foreign markets, Wall Street analyst Dan Ives from Wedbush Securities noted that demand for the vehicle would likely be strong in 2019. According to the analyst, the demand for the car in regions such as Europe — which still have notable passenger car markets — would likely reduce Tesla's need to raise capital in the near future.
"Demand for Tesla's Model 3 mid-size electric sedan looks very strong into 2019 and beyond. While there are worries that some European unit shipments might spill over into Q2 and out of Q1, we believe the Street is well aware of this potential timing dynamic as underlying pent-up demand looks robust on this new European frontier for Musk & Co heading into 2019, with China also a major growth catalyst on the heels of recent price cuts," the analyst wrote.
As a cherry on top for the already successful vehicle, the Model 3 recently received the 2018 Car of the Year award from The Detroit News, with longtime gearhead Henry Payne stating that the electric sedan is "Apple on wheels."